Farrakhan Says He's Doing 'God's Work Like Jesus' After Criticism for Saying Jews 'Satanic'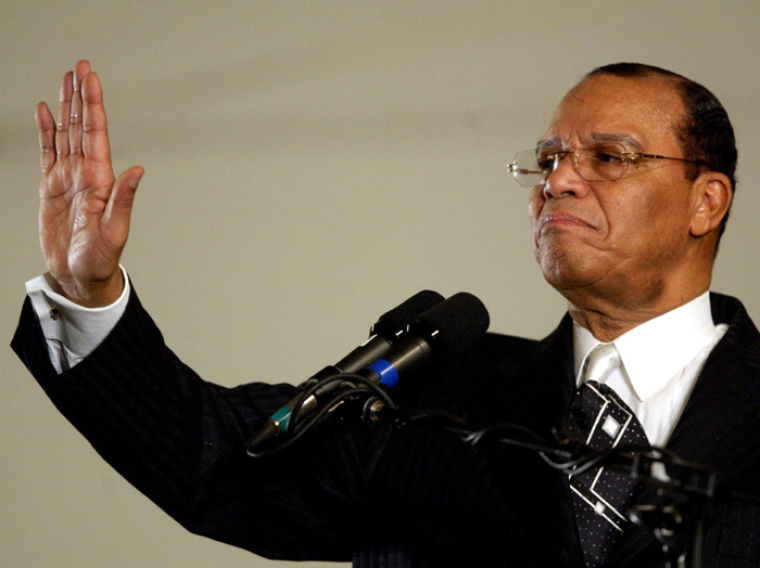 Nation of Islam leader Louis Farrakhan is claiming he is being smeared since he does his work "like Jesus" amid controversy over a speech last month in which he called Jews "satanic."
Controversy has enveloped Farrakhan in recent weeks and those who have aligned with him in in light of his latest anti-Semitic comments, particularly influential congressional Democrats. Some, like U.S. Senator from Hawaii Brian Schatz, have publicly called for everyone to disavow him while other elected officials, particularly those in the Congressional Black Caucus, have been slow to distance themselves from the Nation of Islam leader.
Such hesitancy is likely because, as The Atlantic explained Monday, the Nation of Islam is seen as a positive force in many black communities because of their anti-violence work and rehabilitation ministry to black men who have been to prison. The article noted that the NOI paramilitary wing, Fruit of Islam, often "patrol[s] rough neighborhoods and run[s] off drug dealers."
Earlier this year a photo emerged of then-Senator Barack Obama beside Farrakhan at a CBC function in 2005, a picture that was never released because it was believed that its publication could derail his 2008 presidential campaign.
Farrakhan pushed back against the criticism on Sunday, tweeting: "If you do God's work like Jesus did it, somebody is going to malign you. Somebody is going to speak evil of you. Somebody is going to plot on you. Somebody will always be busy doing something, but you've got to stay steady on the course."
This is not the first time he has appropriated the name of Jesus.
In August, Farrakhan said in a video recording that Jesus will save him from death's grip, even though his organization's creed explicitly states that there is only "One God whose proper Name is Allah."
"I'm not guessing that my Jesus is alive. I know that my redeemer liveth and because he lives I know that I, too, will pass through the portal of death yet death will not afflict me," he said on the same day he visited Bishop Larry Trotter, longtime pastor of Chicago's Sweet Holy Spirit Church, in the hospital.
Farrakhan's more recent words have caused problems for others close to him who are at the front of current policital movements. 
In a Friday episode of ABC's daytime talk show The View, co-host Joy Behar led a discussion about Women's March leader Tamika Mallory's "personal relationship" with Farrakhan, who was reportedly a support to her following the death of her son's father 17 years ago. Mallory, who has come under fire for her connection to him, has referred to Farrakhan as "GOAT," an acronym for "greatest of all time," on her Instagram account and was in attendance at the speech last month where he uttered his "satanic Jews" comment.
The View hosts debated whether or not it was appropriate to even associate with someone like Farrakhan. While Behar admitted that Farrakhan was "a pretty notorious anti-Semite," later in the segment she said "everybody has baggage, unless you're in utero," appearing to excuse it.
Similarly, guest co-host and adviser to former president Obama Valerie Jarrett weighed in, saying that good leaders often have to work with people they disagree with, elaborating that she met with the conservative mega-donors the Koch brothers when they were working on criminal justice issues.
Meghan McCain, the only conservative host on the show, was visibly irritated, bristling at the idea that the Nation of lslam leader was in any way comparable to the Koch brothers and that Farrakan's "baggage" was tolerable.
"My baggage is not that I think that Hitler is a great man," she asserted, referencing one of Farrakhan's past anti-Semitic statements, and compared him with avowed white nationalist David Duke. 
Behar replied: "Yes, we agree with that, there are limits to the baggage."