5 reactions to Trump's tweet signaling his potential arrest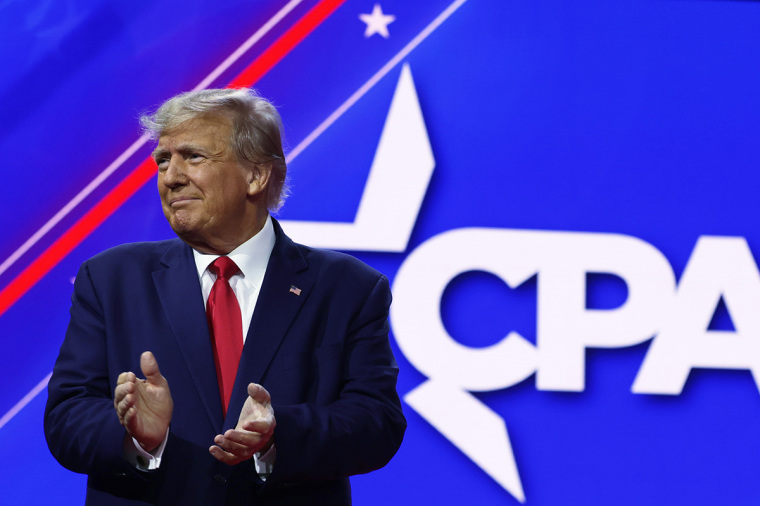 Public figures on both sides of the political aisle are reacting to former President Donald Trump's assertion that he might be arrested Tuesday following a Manhattan grand jury's investigation into his alleged $130,000 hush money payment to porn star Stormy Daniels in 2016.
In a post on Truth Social Saturday, the former president wrote: "Illegal leaks from a corrupt & highly political Manhattan District Attorneys Office, which has allowed new records to be set in violent crime & whose leader is funded by George Soros, indicate that, with no crime being able to be proven, & based on an old & fully debunked (by numerous other prosecutors!) fairytale, the far & away leading Republican candidate & former President of the United States of America, will be arrested on Tuesday."
Trump concluded his post by urging his supporters to "protest" and "take our nation back."
The payment to Daniels, who alleges she had an affair with the former president in 2006 — a claim Trump has denied — was given to her by Trump's former attorney Michael Cohen, who served time in prison on related charges. In 2018, Cohen pleaded guilty to making hush-money payments to both Daniels and a former Playboy playmate who also claimed to have had an affair with Trump. 
In 2021, the Federal Election Commission, comprised of both Democrat and Republican members, said it would not pursue a claim that the former president violated campaign finance rules by paying off Daniels ahead of the election. This was due to a deadlock between the commissioners, of which four of the six had to agree to pursue any action. 
The current investigation against Trump is spearheaded by Manhattan District Attorney Alvin Bragg.
According to The Wall Street Journal's editorial board, Bragg "would be resurrecting a seven-year-old case that even federal prosecutors refused to bring to court."
The charge he's seeking is falsifying business records to pay Daniels. "That is typically a misdemeanor in New York state, though Mr. Bragg might bump it up to a felony by claiming the falsification was to cover up an illegal campaign-finance donation to Mr. Trump's 2016 presidential campaign," The Journal's editorial board added. 
As reflected in Trump's remarks, Bragg has received criticism from conservatives for going after the former president while declining to prosecute violent felonies and implementing bail reform that abolishes pre-trial incarceration for most people arrested for crimes. Critics contend that Bragg's policies have led to a rise in violent criminal activity in New York City.
Testifying to the U.S. House of Representatives in 2019, Cohen, who had since turned on his former boss, stated that the then-candidate "asked me to pay off an adult film star with whom he had an affair, and to lie to his wife about it, which I did." 
Cohen then presented the House committee with "a copy of the $130,000 wire transfer from me to Ms. [Stephanie] Clifford's attorney during the closing days of the presidential campaign that was demanded by Ms. Clifford [Stormy Daniels' real name] to maintain her silence about her affair with Mr. Trump."
The Trump campaign maintained that the candidate did nothing wrong, was the "victim of an extortion plot," and that Bragg does not have jurisdiction to prosecute the case in a statement posted on his campaign website Saturday:
"Legal scholars from both sides agree almost universally payments of this nature are not in violation of federal campaign laws. When these payments were made, President Trump was a candidate for federal office. However, the New York DA does not have jurisdiction to prosecute alleged federal campaign finance violations. The allegations in question are almost seven years old. The New York DA's office is relying on a loophole to get around the statute of limitations in their unprecedented attack."
Trump's post on Truth Social Saturday sparked swift reactions from Democrats, Republicans and other influential public figures. Some suggested that Trump's arrest would make him a more sympathetic figure ahead of his 2024 re-election bid, while others contended that it would not positively impact his political aspirations.
The following pages highlight five reactions to Trump's comments signaling that he might be arrested.