Franklin Graham: Target CEO in Denial as Stocks Tank $10B Over Transgender Bathroom Policy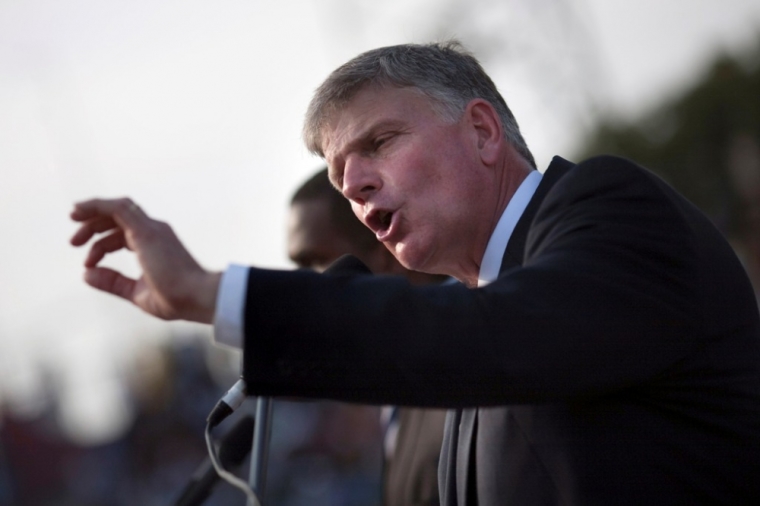 The Rev. Franklin Graham says Target CEO Brian Cornell is in denial over the reason for the company's plunging stock prices, insisting that the conservative boycott against the retailer's transgender bathroom policies is playing a key role.
"Target stock is tumbling after they announced a pro-transgender restroom policy allowing men to use women's bathrooms and changing rooms. Stock value has fallen 20 percent and shareholder value has lost $10 billion since they began promoting this dangerous policy," Graham wrote in a Facebook post on Monday.
He then referred to a media statement made by Cornell, where he denied suggestions that the conservative boycott is to blame for Target's financial setbacks.
"To date we have not seen a material or measurable impact on our business. Just a handful of stores across the country have seen some activity and have been impacted," Cornell told Forbes last week.
Graham responded: "Really? He must be in denial. Wake up corporate America and stockholders — American families clearly do not want this. Over 1.2 million people have signed the online petition to boycott Target stores. This is sending a strong message, and I hope that millions more will sign it."
The leader of the Billy Graham Evangelistic Association linked to the petition started by the American Family Association, which has collected over 1.2 million signatures against Target's new bathroom policies allowing customers and employees to choose which bathroom they go to based on their gender identity.
While Target has explained that its directive is aimed at being inclusive and helping all customers feel welcomed, AFA warned that it opens up a very dangerous situation for women.
"This means a man can simply say he 'feels like a woman today' and enter the women's restroom ... even if young girls or women are already in there. Target's policy is exactly how sexual predators get access to their victims. And with Target publicly boasting that men can enter women's bathrooms, where do you think predators are going to go?" the petition asks.
Meanwhile, Traditional Values Coalition, another conservative group that has started its own petition against Target, warned that parents should not allow their young daughters to try on swimsuits in the retail giant's dressing rooms.
"We need more people to sign up for the boycott. We're launching something this week. We're now heading into bathing suit season. … Do not let your young girls and teen girls buy their summer clothes or bathing suits at Target," Andrea Lafferty, president of the Traditional Values Coalition, told Breitbart News Daily with SiriusXM on Monday.
Despite conservative criticism and reports of plunging stock prices, Target has remained firm and said it will not be reversing its bathroom policy.
"Our focus on safety is unwavering. And we want to make sure we provide a welcoming environment for all of our guests," Cornell said in another interview earlier in May.