'Jesus Was Persecuted, Christians Should Expect Nothing Less,' Pastor Says 1 Year After Garissa Terror Attack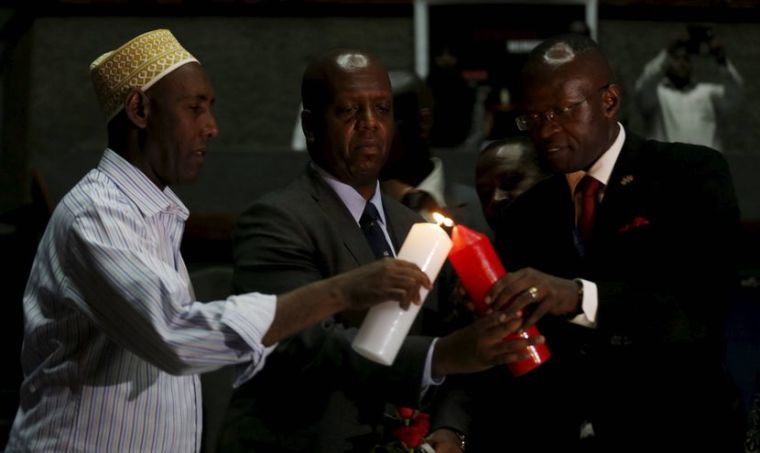 Christians continue to reflect on what it means to be a follower of Jesus Christ one year after the horrific attack on Garissa University in Kenya where 148 students were slaughtered by Islamic radicals.
"God is always just and we should learn to appreciate his will, depend on him for strength, and thank Him for the gift of life because there is nothing that can compensate the lost lives of the students," a Garissa-based pastor, identified as 'Daniel,' told persecution watchdog group the International Christian Concern in a report.
There have been several different commemorations for the victims of the massacre this past week, including candlelight vigils around the country, as well as a run on Saturday, BBC News reported.
The attack last year was carried out by al-Shabaab militants, who have been specifically targeting Christians, often separating them from Muslims before killing them in several kidnapping raids.
While based in Somalia, the terror group has launched several attacks on Kenya and elsewhere, responding to multinational military operations against it.
The terror group has suffered significant casualties in U.S. airstrike operations, and in March more than 150 of its fighters were killed during an American attack on Raso Camp, located 120 miles from the capital of Mogadishu.
Al-Shabaab continues organizing attacks, however, and in February took responsibility for the twin bombing at a busy restaurant in the Somali city of Baidoa, aimed at crippling the central government.
ICC shared in its report the stories of several Christians who were wounded and affected by the Garissa shooting, and noted that "the persecuted Church in Kenya teaches us what persevering faith looks like in the midst of hard trials."
Pastor Daniel, who has been ministering to Christian students coping with the memories of the attack, reminded his followers that if "Jesus Himself represents the One most persecuted," then Christians should expect nothing less.
Some of the Garissa residents who took part in the run organized for the victims told BBC that the city continues to be affected by what happened.
"As we try to mourn the innocent lives, it's like it happened yesterday. The images of the dead bodies keep on playing in my mind. It was really a traumatising experience," said Ali Awdoll, one of the organizers.
Awdoll added that the runners were taking part as "a gesture of the peace and humanity that we lost ... there is no 'we' and 'they' in this whole thing — we are humanity and we all have one common enemy — the terrorists are our common enemy."
Garissa Township MP Aden Duale emphasized that point, explaining that Kenyans need to stand united as one people.
"Together as a country, from the north to the south to the west to east, from the Muslims to Christians... together we must fight all forms of terror," Duale said.
Garissa University College officially reopened back in January nine months following the attack.
Although some church leaders, including Roman Catholic Bishop Joseph Alessandro, praised the reopening of the college, he noted that it would be mainly Muslim students that will be returning, as most of the Christians have opted to move to other campuses in Kenya to continue their education.