Merrick Garland grilled for 'disparity' between prosecution of pro-life, pro-choice activists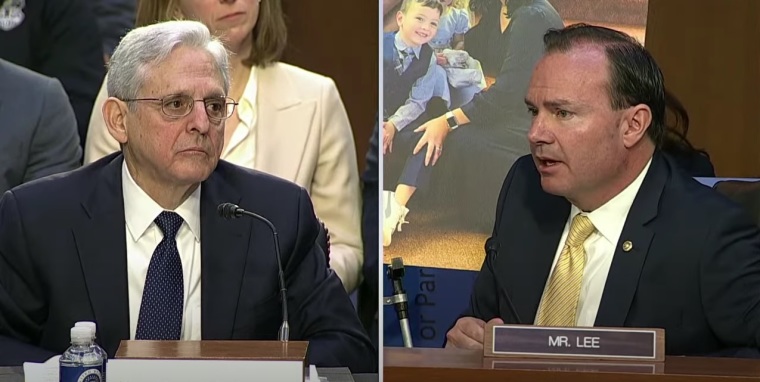 Attorney General Merrick Garland faced criticism for the apparent disparity in treatment between pro-life protesters at abortion clinics and pro-choice activists who have vandalized pregnancy care centers.
Garland testified before the Senate Judiciary Committee on Wednesday that was centered on the oversight of the United States Department of Justice and other issues.
During his opening remarks, Garland explained that, since the U.S. Supreme Court overturned Roe v. Wade last year, "the Department has pulled together to protect reproductive freedom under federal law."
Sen. Mike Lee of Utah asked Garland about the treatment of Mark Houck, a pro-life activist who was recently found not guilty of violating federal law related to an encounter with a Planned Parenthood clinic escort in Philadelphia, Pennsylvania.
Lee expressed concern over how Houck was treated, given that the pro-life advocate had his house raided by several armed federal agents shortly after the incident, saying that "it doesn't seem justifiable to me to have that overwhelming show of force for conduct like that."
The Republican senator went on to note that from 2022 to early 2023, the DOJ had charged 34 pro-life activists for "blocking access to or vandalizing abortion clinics" while only two individuals have been charged for vandalizing pro-life churches and pregnancy care centers, despite the largewave of such incidents since last year.
The charges made stemmed from the Freedom of Access to Clinic Entrances Act, a federal measure against damaging or committing violent acts against abortion clinics, abortionists or their patients.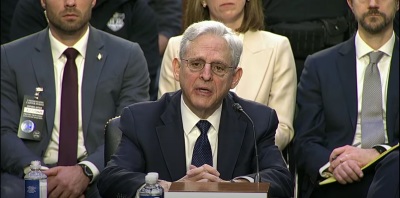 "How do you explain this disparity?" Lee asked Garland.
The Democrat attorney general responded that "the FACE Act applies equally to efforts to damage, blockade clinics, whether they are a pregnancy resource center or they are an abortion center."
"You are quite right, there are many more prosecutions with respect to the blocking of the abortion centers, but that is generally because those actions are taken with photography at the time, during the daylight," said Garland. "Seeing the person who did it is quite easy."
"Those who are attacking the pregnancy resource centers, which is a horrid thing to do, are doing this at night, in the dark."
Garland added that "we have put full resources on this" and have "put out rewards for this," noting that "the Justice Department and the FBI have made outreach to Catholic and other organizations to ask for their help in identifying the people who are doing this."
"We will prosecute every case against a pregnancy resource center that we can make," he continued. "But these people who are doing this are clever and are doing it in secret, and I'm convinced that the FBI is trying to find them with urgency."
On the same day as Garland's testimony, the DOJ announced that 32-year-old Jay Smith had pled guilty to violating the FACE Act when he tried to block entry to an abortion clinic in Washington, D.C., in 2020.
Smith was indicted along with nine other individuals: Jonathan Darnel, William Goodman, Herb Geraghty, Lauren Handy, Paulette Harlow, John Hinshaw, Heather Idoni, Jean Marshall and Joan Bell.
"Smith pleaded guilty to a charge that he used force and physical obstruction to intentionally injure, intimidate, and interfere with a nurse and other employees of the reproductive health clinic because of the services being offered. The charge further alleges that Smith's conduct resulted in bodily injury to the clinic nurse," stated the DOJ.
Last October, a group of Republican members of Congress — Lee among them — sent a letter to FBI Director Christopher Wray claiming that the federal investigative body was wrongfully targeting pro-life Americans.
"Overzealous prosecutions under the FACE Act weaponize the power of federal law enforcement against American citizens in what should firmly be state and local matters," read the letter, in part.
"Further, these abuses of federal power against pro-life Americans based solely on their beliefs undermine the American people's trust in the FBI."