Human Rights Activist Tortured and Killed by ISIS After Being Taken From Husband and Children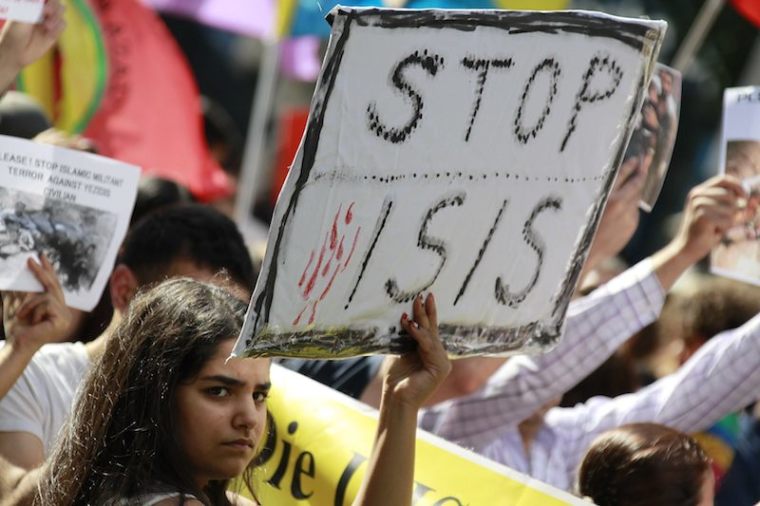 An Iraqi human rights lawyer was tortured and killed by terror group ISIS in the city of Mosul, after she was taken from her husband and three children at home and found guilty by the militants' religious court of abandoning Islam.
"The public execution of well-known human rights lawyer and activist, Ms. Sameera Salih Ali Al-Nuaimy, in Mosul, is yet another of the innumerable sickening crimes committed against the people of Iraq by the Islamic State of Iraq and the Levant (ISIL)" Nickolay Mladenov, the U.N. envoy to Iraq, said in a statement.
Islamic militants seized al-Nuaimy while she was at home with her husband and three children last week in a northeastern district of Mosul. The human rights lawyer was then taken to a secret location. It is not yet known how she was executed, but her body bore signs of torture when her family was called five days later to retrieve her corpse from the morgue.
The United Nations Assistance Mission in Iraq has said that her arrest and execution was apparently connected to a Facebook message she had posted criticizing the destruction of religious sites in Mosul, formerly a heavily Christian city, at the hands of ISIS. Al-Nuaimy was found guilty by the militants' Sharia court of apostasy, or betraying the Islamic faith.
Mladenov added: "By torturing and executing a female human rights' lawyer and activist, defending in particular the civil and human rights of her fellow citizens in Mosul, ISIL continues to attest to its infamous nature, combining hatred, nihilism and savagery, as well as its total disregard of human decency."
ISIS has ruthlessly targeted religious minorities, including many Christians, during its attacks on several cities across Iraq and Syria. A global initiative led by the U.S. has set aims to stop the terror group and help the national and regional governments fighting against the militants.
ISIS has retaliated by beheading several westerners and filming their executions, and has inspired other extremist groups to follow suit. A French citizen was executed earlier this week by a separate jihadist group in Algeria as a response to France launching airstrikes against ISIS targets in Iraq.
"ISIL has repeatedly targeted the weak and defenseless in acts of brutality and cowardice that are beyond description, bringing about unfathomable suffering to all Iraqis regardless of their gender, age, religion, faith or ethnicity," the U.N. envoy underlined.
Christians were driven out of Mosul over the summer after ISIS captured the city and made it its stronghold, telling believers their choices are to convert to Islam, pay a tax, or be killed. The militants have since enforced strict rules throughout the city, and have established their own religious court.
ISIS have targeted a number of other human rights activists as well, The Associated Press reported. Back in July the militants killed a female candidate in the last provincial council elections in the town of Sderat, and on the same day abducted a female politician from eastern Mosul, who still remains missing.
At least five female political activists have been killed in recent weeks, revealed prominent Iraqi human rights activist Hanaa Edwer.
"But it is not just women being targeted," Edwer said. "They will kill anyone with a voice. It is terrifying."