Hurricane Matthew Tracker: Projected Path Latest Map as 1.1 Million Ordered to Evacuate South Carolina; Florida Fearing Direct Hit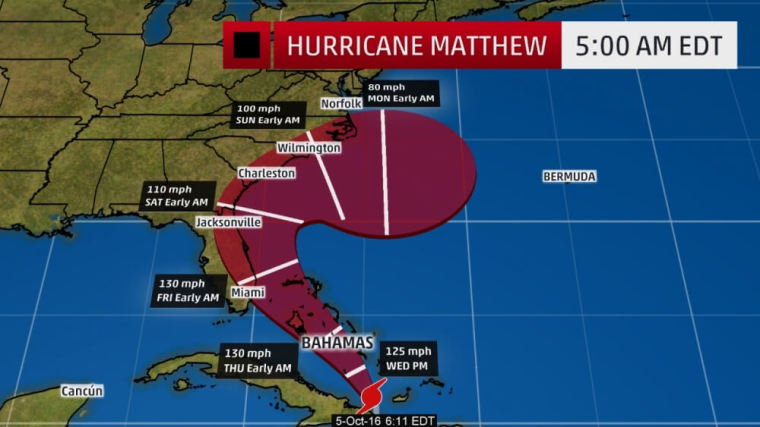 Hurricane Matthew has forced a state of emergency in Florida and South Carolina, as well as as eastern and central North Carolina and southeastern Georgia, with as many as 1.1 million ordered to evacuate the South Carolina coast.
"We don't do voluntary or mandatory. It is an evacuation," South Carolina Gov. Nikki Haley said at a news conference on Tuesday, noting that officials will begin evacuation procedures for 1.1 million people at 3 p.m. EST Wednesday, unless the storm's course changes significantly.
"Our goal is to make sure you get 100 miles away from the coast."
BBC News reports that thousands of people have been displaced in Haiti, with officials attempting to reach the worst-hit areas on Wednesday. At least two people are reported to have died in Haiti, with the storm now moving off the north-eastern coast of Cuba, and triggering warnings in the American south east.
Weather Channel meteorologist Chris Dolce said the exact intensity of the storm when it passes near the U.S. coast remains to be determined.
"Matthew could pass near or just off the Southeast coast late this week into the weekend. Even if the center of the hurricane does stay offshore, we would still have the potential for coastal flooding, beach erosion, battering surf, rain and gusty winds," Dolce said.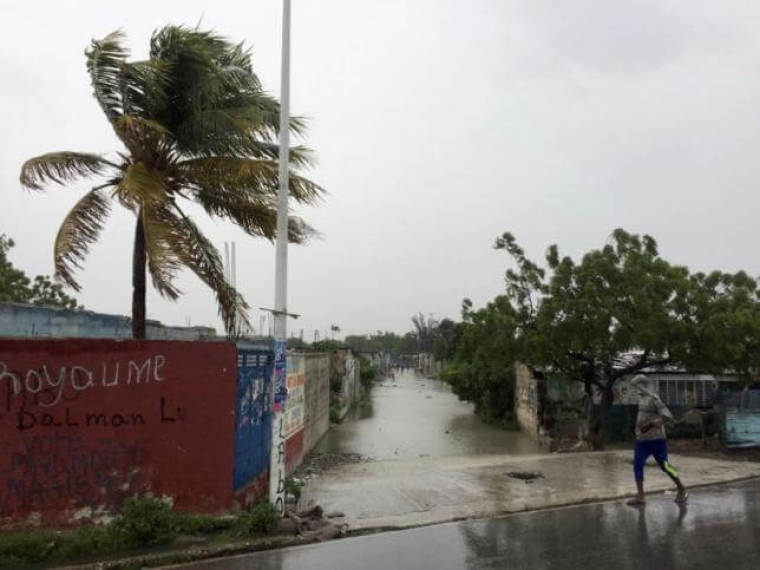 "The magnitude of any of those impacts will depend on Matthew's track and intensity at that time."
Florida Gov. Rick Scott said that he activated 200 Florida National Guardsmen on Tuesday, with 300 more set to be activated on Wednesday, and another 6,000 members of the FNG placed on standby in case a large-scale evacuation is needed.
"We cannot rule out a direct hit on Florida," Scott said. "Again, we cannot rule out a direct hit."
President Barack Obama also announced on Tuesday that he will have to be canceling a scheduled visit to Miami Gardens to campaign for Democratic presidential nominee Hillary Clinton, which had been planned for Wednesday.
Early reports noted that Matthew's impact on Cuba was not nearly as bad as Haiti, where winds of 145mph, heavy rain and dangerous storm surges forced nearly 10,000 people in shelters.
Mourad Wahba, the United Nations special representative for Haiti, added that overcrowded hospitals are suffering shortages of fresh water.
Emergency efforts have also been hampered by downed communications and blocked roads, BBC added.
"The mobile network has also gone down," explained Laura Sewel, an aid worker with Care Haiti.
"So what this means for us is that we're out of contact with our staff right now which is quite difficult and the bridge going down means it will be harder to move materials."
The port town of Les Cayes has seen flooded streets and houses go without roofs.
"Many people are now asking for help, but it's too late because there is no way to go evacuate them," said Fonie Pierre, director of Catholic Relief Services for Les Cayes, according to The Associated Press.