Imprisoned Christian Asia Bibi May Not Avoid Death Even If Acquitted by Pakistan's High Court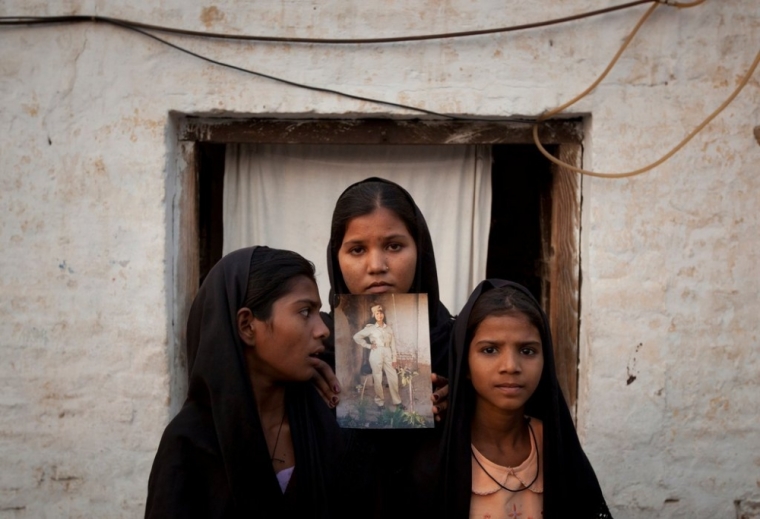 Pakistan's first woman on death roll, Asia Bibi, whose struggle with the country's highly criticized blasphemy laws, may not be able to truly escape the death sentence even if she's acquitted of her "crime."
Bibi's husband, Ashiq Masih, recently told U.K.-based Daily Mail that his 50-year-old wife, who has been imprisoned for six years for allegedly blaspheming Islam by drinking out of a Muslim's bowl, is on the local Muslim clerics' hit list and a bounty has been placed on her head. Masih said his family is "broken" over what has happened to Bibi and believe she is framed.
"My children cry for their mother, they are broken. But I try to give them hope where I can," said Masih to Daily Mail.
Masih plans to petition Pakistan's Supreme Court to acquit Bibi of her alleged crime later this month but said even if she's freed, the family will never return to their home for fear of violence against them from local Muslims.
"The Maulvis (clerics) want her dead," said Masih. "They have announced a prize of Rs 10,000 to Rs 500,000 ($98 to $4915 USD) for anyone who kills Asia. They have even declared that if the court acquits her they will ensure the death sentence stands."
Masih hopes that if Bibi is acquitted, the family can seek asylum in a country where they will be safe.
Recent reports indicate that Bibi's health has greatly deteriorated while in prison. According to a report from The Global Dispatch, Bibi's family was permitted to visit her in May and noticed that she is "so weak that she can hardly walk."
She is reportedly suffering from intestinal bleeding and has been in dire need of medical attention. Her lawyers are working to ensure that these issues are addressed and are attempting to move her to a prison in Lahore, which is closer to her relatives, according to a family source.
"When vomiting there is also shown traces of blood. Asia has difficulty feeding properly, while constant pain in the chest," The Global Dispatch quoted the unnamed family source as saying. "Therefore it is necessary that Asia Bibi be submitted as soon as possible [for] a full medical checkup, including blood work."
Bibi's imprisonment has even attracted the attention of Pope Francis.
The pontiff met with Bibi's family at the Vatican in April, and was urged to speak to Pakistan's government for her release. They met with the pope after his Wednesday General Audience.
"We are here in Italy to make sure we can be the voice of an innocent woman who has been suffering in jail for six years," Catholic News Agency quoted Masih as saying after the brief meeting with the pontiff. "Since the day Asia Bibi was arrested, our family is totally destroyed. The children cannot survive without their mother. Asia Bibi misses her children, the children miss her."
Christian groups such as the British Pakistani Christian Association have spoken out against the treatment of Bibi. The group's president, Wilson Chowdhry, encouraged Christians in the West to contact their government officials and urge them to pressure the Pakistani government to either move up Bibi's Supreme Court hearing or release her.
"If Asia Bibi is prevented her opportunity to exonerate her name, it will be viewed as a great travesty of justice and a blight on the reputation of the supposedly democratic nation of Pakistan," said Chowdhry. "I urge people in the west to challenge their country's leaders to intervene on behalf of Asia and directly email the Prime Minister President of Pakistan, calling for them to expedite her Supreme Court hearing and to ensure she gets adequate treatment for her current poor health."
Bibi was imprisoned under Pakistan's much-condemned blasphemy laws, which have been widely reported to be abused by Pakistani Muslims for personal revenge against local Christians. These laws have been protested by human rights groups around the world, which seek to have them abolished.
Pakistan's former Governor of Punjab Salmaan Taseer and former Federal Minister for Minorities Affairs Shahbaz Bhatti, the first and only Christian to hold a cabinet position in Pakistan, spoke out against the treatment of Bibi and called for reform of the blasphemy laws. However, sadly, both anti-blasphemy law activists were assassinated for defending Bibi and their advocacy for reform.
In recent months, the sectarian violence in Pakistan seems to be getting worse, with 100 Pakistani Christians in March arrested, tortured and beaten after they were blamed for allegedly lynching two Muslim men who they believed were involved in church bombings.
International Christian Concern, a leading Christian persecution watchdog and advocacy group, spoke out against the beatings at a press conference shortly after the mass arrests.
"They were telling us that they were beaten to a pulp," said ICC President Jeff King to The Christian Post at the time. "A lot of times, what they are saying is that they get beaten to a pulp and get left on their doorstep in a bloody mess, and the whole point was to extract confessions."
King also said the Christians who were arrested had nothing to do with the lynchings.
"We would seek for justice for those Muslim families but arbitrary arrests and detention are not the way to get justice," said King. "They only serve further flames of injustice and hatred. Frankly, it is a mark of a Banana republic and an incompetent police force."