Iran Orders Stoning of Woman to Death on Human Rights Day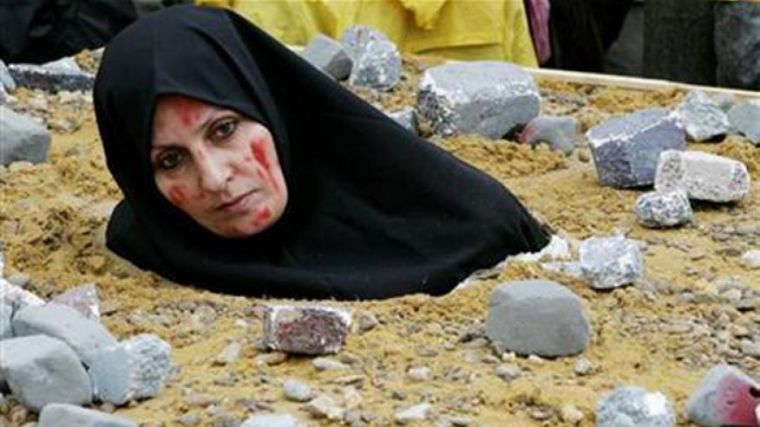 The government of Iran sentenced a woman to death by stoning as the world marked International Human Rights Day on Thursday, reports said.
Fox News reported that a woman, identified by the initials A.Kh, was sentenced by the Iranian criminal court in Rasht to be buried to her shoulders and pelted with rocks until she is dead. The woman was convicted of being complicit in the murder of her husband.
"The rate of executions in Iran has not decreased in the last few years, it has increased," noted Maryam Nayeb Yazdi, a prominent Canadian-Iranian human rights activist based in Toronto.
"Although stoning has become more rare in Iran, such sentences are still being issued by Iranian judges," Yazdi continued.
"The probability of a stoning sentence to be carried out is slim due to the international sensitivity of the issue; there is a great chance her sentence may be 'converted' to death by hanging," she added.
Yazdi also argued that Iran needs to be questioned about its policies.
"The stoning sentence is an indication of the Iranian regime's continued war against women in Iran. Arbitrary executions in Iran must be on top of the agenda in any dialogue between Iran and the West," she said.
Earlier this year, Iran secured a widely-debated nuclear deal with the U.S. and several other western states, which lifted heavy economic sanctions from the Islamic Republic.
While the deal is also supposed to stop Iran from obtaining nuclear weapons, a number of organizations voiced concerns that Iran was being rewarded without expressing a commitment for improving its human rights record.
Conservative law groups, such as the American Center for Law and Justice, have also called out Iran on its continued imprisonment of several Americans, including the famous case of Pastor Saeed Abedini, now held for over three years in Iranian prison for his Christian faith.
Other critics, including Julie Lenarz, executive director of the Human Security Center in the United Kingdom, told The Jerusalem Post that it is "astonishing" that the West continues working for a stronger alliance with Iran, despite its "abysmal human rights record and aggressive behavior in the region."
"Women are stoned for being raped and Iranian law even allows for juvenile executions. Iran is averaging three hangings per day at the moment and remains a pariah state with no regard for human life," Lenarz said.
"In a despicable form of moral myopia, the gold rush for business, as the international sanctions regime begins to unravel, has made Western governments blind to the suffering of ordinary Iranians at the hands of the Ayatollahs."
The U.N.'s website notes that Human Rights Day commemorates the Universal Declaration of Human Rights, which was adopted in 1948.
"On Human Rights Day, let us recommit to guaranteeing the fundamental freedoms and protecting the human rights of all," said U.N. Secretary-General Ban Ki-moon.