'ISIS Is Gone, Christians Are Back': Iraqi Believers Hail Reconsecration of First Church Since Invasion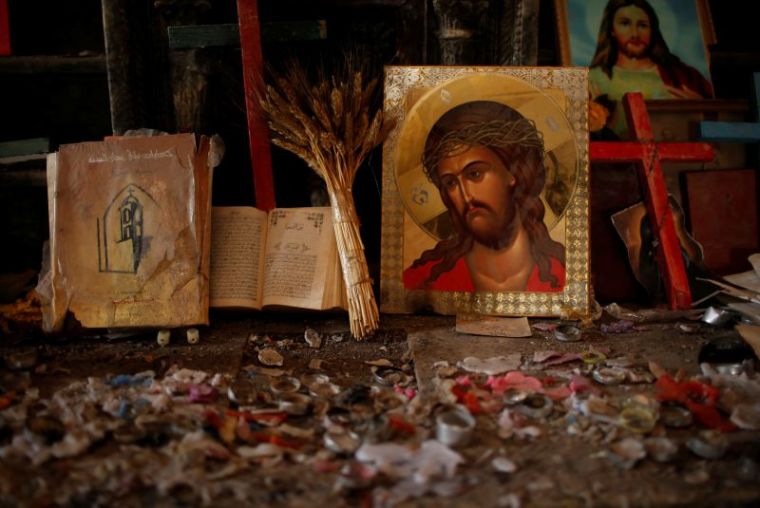 Long-suffering Christians in Iraq's Nineveh Plains celebrated last week the reconsecration of the first church to be reopened there since the Islamic State terror group was driven out of the region, marking it as a symbol of hope and victory.
"ISIS wanted to eliminate the Christian presence here — but ISIS is gone and the Christians of Telleskuf are back," Chaldean Archbishop Bashar Matti Warda of Erbil, Kurdistan, said at the ceremony last week at St. George's Church in Telleskuf.
Catholic charity Aid to the Church in Need pointed out on Thursday that like many other churches in IS' path, St. George's was "severely damaged, ransacked and desecrated."
IS has been driven out following a string of heavy losses throughout Iraq and Syria this year, though Christians in the region have been struggling to find the funds to rebuild their lives and their homes.
ACN and others, such as the government of Hungary, played an important part in funding the repairs around St. George's, which Warda said can serve as an incentive to other Christian towns and communities.
"I am moved by the fact that the church of St. George has not only been reopened, but that it has become more beautiful and glorious than before. That is the way God's Providence work," the archbishop declared.
Telleskuf was home to close to 1,500 Chaldean Christian families before IS attacked the region in 2014, driving many of the families out. With two-thirds of the population returning following IS' defeat, Christians there wanted the church operating as normal again.
ACN said that close to 6,330 families in total that were forced to flee in 2014 have returned to the Nineveh Plains.
The Catholic charity noted that it is also looking to help repair and renovate two other churches in the region, one Syriac Catholic church and an Orthodox one.
Iraqi Prime Minister Haider al-Abadi announced in a message to the nation last week that the country has been "completely liberated" from IS control.
"We have accomplished a very difficult mission. Our heroes have reached the final strongholds of Daesh and purified it. The Iraqi flag flies high today over all Iraqi lands," he declared, using an alternate name for IS.
Still, various figures, including Abu Mahdi al-Muhandis, a commander in the Hashed al-Shaabi militia, have warned that despite IS' defeat, the terror group is not yet eliminated and can still carry out deadly attacks.
"It is still present in some places and its members are trying to infiltrate civilians and villages. IS has changed its method," he said earlier.
Warda issued a plea to the administration of U.S. President Donald Trump in November, urging America to help provide assistance to the 20,000 Iraqi Christian families, or around 100,000 people, that need help rebuilding their lives.
"They are persecuted, they are marginalized and they are in need," Warda said of the Christians. "You are not just helping them because they are Christians, but because they have been persecuted and left behind."
U.S. Vice President Mike Pence announced in early November that the administration plans to change existing policy so that U.S. aid would go directly to those aiding Iraqi Christians without having to go through the U.N.