ISIS Torments Iraqi Mother by Sending Photos of Captured 6-Y-O Son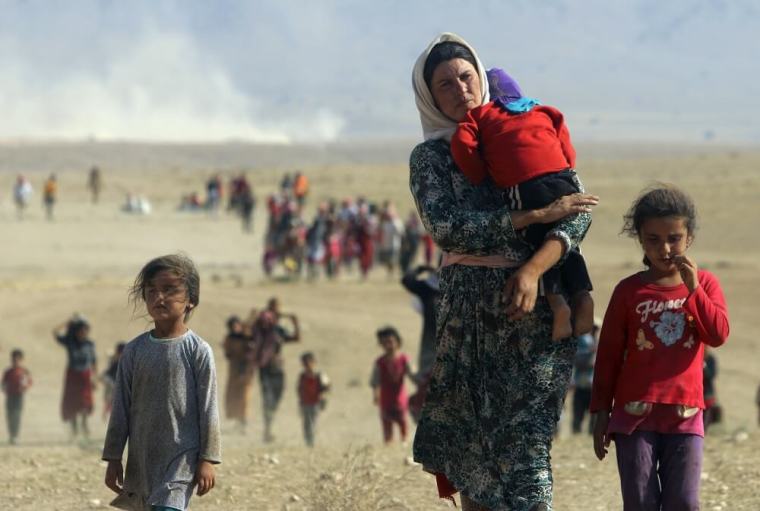 A displaced Iraqi mother has detailed how the Islamic State has been torturing her by sending photos and videos of her captured 6-year-old son with guns being pointed at him.
A Yazidi mother named Gule detailed in an interview with BBC how her family, like many other Yazidi families, was ripped apart when IS (also known as ISIS, ISIL or Deash) took over their homeland in northern Iraq in the summer of 2014.
As IS swept through Yazidi villages over two years ago and displaced over 360,000 Yazidis, the militants were known to have systematically separated girls, women and children from the men. Many of the Yazidi men were killed en masse, while the women and girls were forced into sexual slavery and the young boys were taken and trained to be jihadis or suicide bombers.
Gule's family was no different. She explained that when IS took over her village, her husband was taken away and likely killed. She added that her two oldest sons were taken to IS' stronghold in Mosul and she has not seen nor heard from them since.
Gule explained that she was initially able to remain united with her youngest son, who was only four years old at the time. However, IS militants eventually took him from her as well.
"We are innocent folk. God gave us this religion and we worship him," Gule said. "Even though we didn't do anything bad to anyone, Daesh harmed us so much."
Although Gule has not heard from her two oldest sons, she stated that IS has tormented her by sending mobile pictures and videos of her son to her mobile phone.
One of the pictures IS sent her is of her now 6-year-old son squatting by a rifle.
"They do it to play around with our feelings and to hurt us, when we see our children with guns pointed at them," Gule explained.
The pictures bring conflicting emotions to her heart.
"On the one hand I am happy that he is still alive," she said, adding that she has offered to buy back her son from the militants. "But on the other hand, I am sad that he isn't next to me and that he's under their control."
Despite Gule's offers to pay ransom for her son's release, his captors have refused to let him go.
"If I had the chance to find him, wherever he is – even if it is in the middle of hell – I would go," the mother asserted.
BBC also shared the story of two Yazidi teenage boys who were captured by IS when the group overtook Yazidi territory in 2014.
Lovant and Sabbah, whose names have been changed for security purposes, told the British news outlet that that they were held by IS for over a year and were forced to train as "cubs of the caliphate" at one of IS' jihadi training camps in Syria where there were about 120 boys training to become jihadis.
Most of the boys at the camp were Muslims believed to have been sent there by their own families, the teens noted.
"We learnt how to load and fire a weapon. We were training to be soldiers and we would do exercises – crawling under barbed wire – things like that," Lovant, 16, explained. "They taught us all about war."
Sabbah, 14, stated that they were forced to participate in a form of target practice where they would have to shoot at the dead bodies of people killed for being so-called traitors of IS.
"I missed home a lot," Sabbah said. "Especially when we saw how the Arab boys went every weekend to their families in Syria. We got very upset. In moments like this, we died 10 times."
The teens were also forced to pray, recite the Quran and learn from IS textbooks.
"They tried to brainwash me. Their books were just like magic. They quickly changed your mind," Sabbah told BBC. "I bet it's not just me, even a man's mind would have changed."
Sabbah added that the IS trainers would force the children to keep watch over the training complex at night and if one of the teens fell asleep, the trainers would beat them with a bat.
Fortunately, the boys were able to escape from the grips of IS with the help of a third-party smuggler who was able to get them out of Syria and back to Iraq.
The boys are now living in a shelter with about 80 Yazidis in Baden-Wurttemberg, Germany.
"If I had stayed there just one more month, I would have become one of them," Sabbah said.