'Jesus is Better Than You Imagined' Author Says He's More Defined by His Spirituality Than Sexuality
One of three boys born to James Merritt, a Georgia Southern Baptist pastor, and his wife Teresa, Jonathan Merritt attended his first religious service at the age of nine days.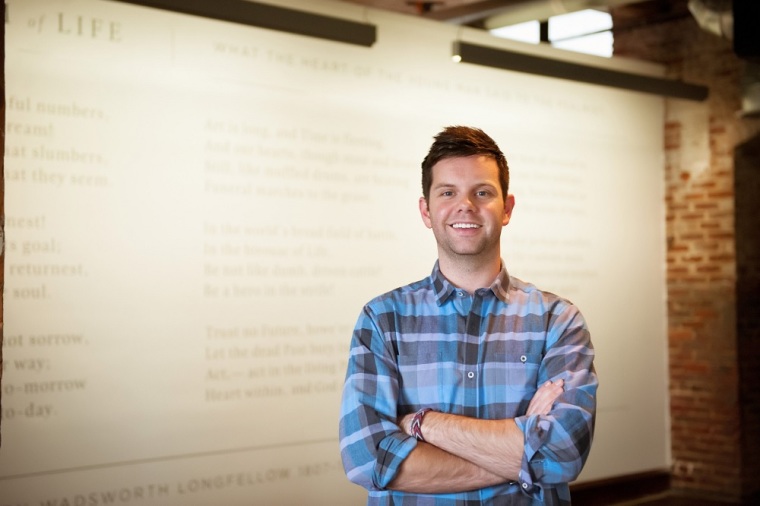 "I'm told that I was the main attraction in the nursery: the pastor's newest son, pink-faced and barely a week old. An esteemed member of Buck Grove Baptist Church before I could even pronounce my name," recalls Merritt in his latest book Jesus Is Better than You Imagined.
Merritt and his brothers remained in the spotlight throughout their childhood.
"Growing up, we sometimes had fights while riding to church in our family minivan with my parents and two brothers…When we arrived at church, Mom or Dad would turn around say, 'Okay. We're at church now. Time for everyone to be on their best behavior. You're the Merritts. You need to act like it,'" writes Merritt. "…The door slid open and a transformation occurred…We'd hold hands even though we really want to pull each other's arms out of socket….As years of behavior progressed, I became skilled at wearing a mask."
While much of his life revolved around church involvement, Merritt, 31, did not always find himself satisfied with the depiction of Jesus that his youth group or seminary presented. Yet, rather than rejecting Christianity, Merritt grew increasingly hungry for a personal faith and relationship with Christ.
After finding himself the holder of a Master's of Divinity ("a misnomer if there ever was one,") and several years of "calling people to faith and reminding those who found it keep doing justice," Merritt nevertheless believed that there was more of Jesus he had yet to experience and began praying intensely, imploring God to "show up and surprise me."
Over the course of the next year-and a-half, Merritt saw God everywhere: in the aftermath of a friend's death from a rare, flesh-eating disease, in a 60-hour vow of silence at a monastery, and a mission trip to Haiti in which he was nearly kidnapped.
During this very same time, Merritt began to come more fully to terms with his childhood sex abuse and his own inconsistent feelings of same-sex attraction. In 2009, Merritt recounts that he penned an editorial in USA Today pleading to Evangelicals to "stop merely talking about love and start showing love to our gay and lesbian neighbors. It must be concrete and tangible. It must move beyond cheap rhetoric."
What Merritt did not admit to in article was that he was not "just asking that [Christians] do a better job loving our neighbors; I wanted to know that I was loved too."
Shortly after he penned the article, Merritt was contacted by a gay blogger in whom he confided his feelings and childhood experiences. When the two met up in person, Merritt admits that they "had physical contact that fell short of sex but went beyond the bounds of friendship." Several years later, the blogger went public the information.
But where Merritt could have felt that his entire public identity was crashing down on him, instead, the author said he began to feel that he could actually speak honestly about who he was.
"When we come to believe that our stories are not coincidental, that they are important, that they matter, and that they belong at the table too, and when we can begin to speak those things to others, there is something redemptive that happens in that. That is actually part of our sanctification is that we come to be honest with our own stories and struggles and journeys," Merritt told The Christian Post.
Merritt explained his refusal in the book to ascribe a particular sexual identity to himself, suggesting that to do so would be "a bit dehumanizing."
"People will always ask me how I label myself and I don't answer the question in the book for this reason. I have come to understand that sexuality is far more complicated than we have come to understand it in the Evangelical church. It does not fit neatly inside boxes that can have label slapped on them and you can neatly put on the shelf," said Merritt. "I experience my own sexuality on a spectrum and some days I feel more one way and some days, another way."
On the other hand, Merritt said he no problem labeling himself a Christian.
"Being a Christian feels to me in a way that sexuality doesn't, to be woven into the very fabric of who I am…I am far more defined and shaped by my spirituality than my sexuality and I'm okay with the messiness of that answer," he added.
Merritt also continues to describe himself as Evangelical, despite publicly disagreeing with other Christian leaders on some public policy issues.
Merritt cited David W. Bebbington's work on the "Evangelical quadrilateral" in his explanation why he has not jettisoned the identification. In Merritt's words, the Scottish historian defined Evangelicals as those who believe in conversionism, "You have to come to a point where you believe in Christ," activism ("Your faith is not just something you do at home in the prayer closet,") cruicentrism ("Mainline churches fail to wrestle with the messy, confusing, confounding cross event,") and Biblicism ("You don't have to be an inerranist…but it most hold authority over every area of your life including tradition or experience.")
"Now there's a difference between being Evangelical and feeling like you fit with the Evangelical church or feel like you fit with the Evangelical leadership that hogs the microphone. I don't feel like I resonate so much with those who hog the microphone in Evangelicalism, but when it comes down to what I believe Evangelicalism is, I say 'Yes, that's me,'" Merritt explained.