Joel Osteen Visits Christian Pregnancy Center in DC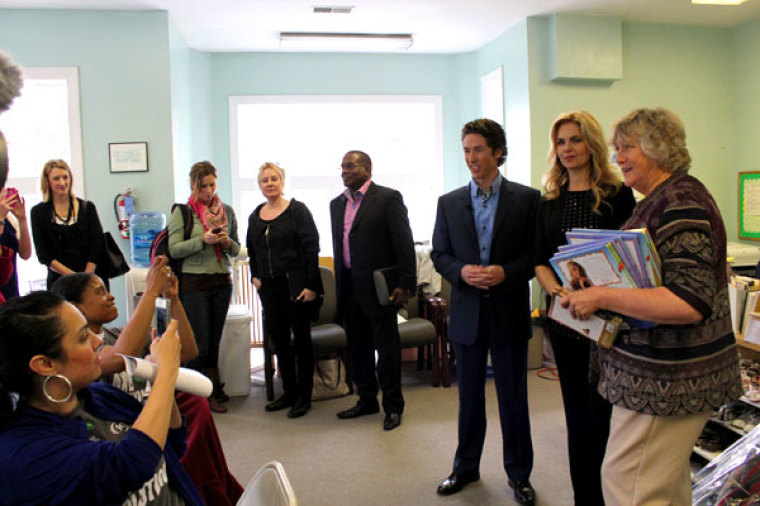 WASHINGTON – Pastor Joel Osteen of the 40,000-strong Lakewood Church in Houston visited a place he is not commonly associated with – a pregnancy center – during his activities Thursday in the nation's capital.
Osteen, accompanied by his wife, Victoria, stopped by the two-story, red-bricked Capitol Hill Pregnancy Center tucked into a residential area in Northeast D.C. The Osteens were given a tour of the narrow building where volunteers of Generation Hope Project – an outreach of Joel Osteen Ministries – were renovating counseling rooms and folding pamphlets.
During the tour, Victoria Osteen noted that there was not enough storage space in the center, and before leaving donated strollers and her children's books to the facility. She talked to the center's executive director, Janet Durig, and promised to send more assistance and said she has taken note of the center's need.
"It (Generation Hope Project volunteers' service) has meant the world. While we have a lot of volunteers locally, but to have Lakewood, the largest church in the country, to send a team of people to volunteer here to do as Jesus' servants anything they were asked to do was really pretty neat," Durig shared with The Christian Post.
"It's just very uplifting," she added. "It's always wonderful to share your ministry with someone else's ministry and to have strength in the Holy Spirit and Christ from it, and that is what this has done."
The mission statement of Capitol Hill Pregnancy Center reads that it seeks to serve "the Gospel of Jesus Christ by providing intervention and abortion alternatives for women and men facing crisis pregnancies; prepares and trains parents through education for pregnancy, birth and beyond; expresses the love of Jesus Christ through emotional support and friendship; and encourages a lifestyle that reflects godly values, especially with regard to sexual behavior."
At the end of the visit, the Osteens, the center's staff, and the Generation Hope Project volunteers held hands and formed a circle in the small reception area as Joel led a prayer for the center and its mission to help young women in a crisis pregnancy.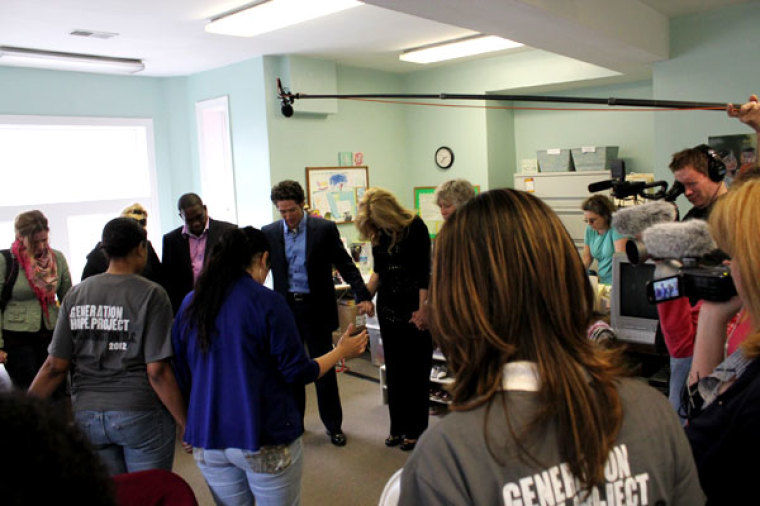 When asked by The Christian Post later if he was trying to make a statement about abortion with the pregnancy center visit, Osteen responded, "To me we are all about helping anybody in need. So we deal with people who are young, they have babies and don't know what to do.
"My platform is not big anti-abortion, although I am not for abortion. But you know, we are just for helping people."
Earlier Thursday morning, Osteen led the U.S. Senate in prayer, two days after leading the House in prayer. He also visited Amidon-Bowen Elementary School in an underserved neighborhood in Southwest D.C. and a shelter in Southeast D.C. for homeless, single mothers with disabled children.
The dozen or so volunteer community service activities by Generation Hope Project this week are all leading up to the America's Night of Hope event with Joel and Victoria Osteen. Some 400 teens across the U.S. have volunteered to come to Washington, D.C. to help renovate buildings, do landscape and other community service activities as part of Generation Hope Project. The goal is for the Generation Hope Project activities before the Night of Hope event to leave the host city in better shape than before the event was held.
Washington, D.C. was chosen as the first city to launch Generation Hope Project's volunteer community service in anticipation of Night of Hope. Tens of thousands are expected to attend the Night of Hope event at the Washington Nationals Park this Saturday.