John MacArthur to students questioning accreditation problems: 'Keep your mouth shut'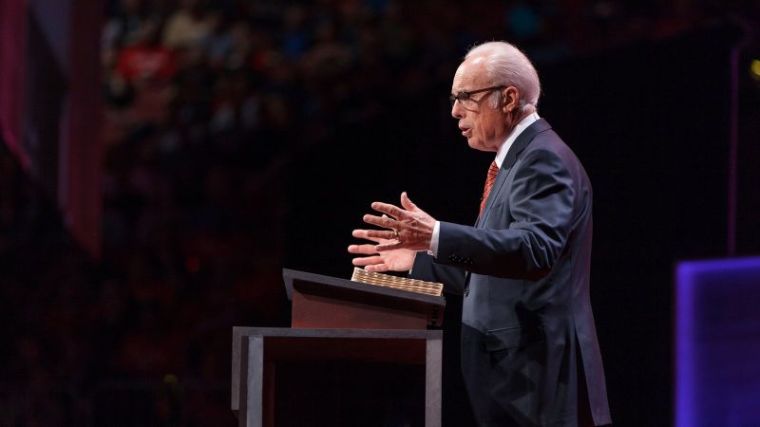 Pastor John MacArthur has described the probation of his Master's University and Seminary by an accrediting agency as an "orchestrated" attack, possibly by Satan, and directed students to keep quiet about the controversy. 
A Nov. 29 report from the Chronicle of Higher Education published an audio recording of an hourlong sermon from August wherein the 79-year-old Reformed pastor told the student body that their accreditor's actions amounted to an effort "orchestrated, if not by humans, by Satan himself."
MacArthur also told students not to ask questions about the accreditation issues, they had no right to learn the details, and that it was not their responsibility.
"There are things that God hates, right?" he said, referencing Proverbs 6. "One of them is the one who stirs up strife," he said, urging students to keep their complaints within the university and seminary.
"Keep your mouth shut," MacArthur told them.
"Don't stir up strife. You don't know the whole story."
He insisted that Western Association of Schools and Colleges' Senior College and University Commission, the agency that issued the report earlier this year, did not understand places like TMU and TMS.
The Chronicle of Higher Education said the accreditation report showed that while the schools were doing some things right, it also accused Master's of being "an insular and oppressive institution where loyalty to the president and his church has sometimes trumped both academic and financial concerns."
The reviewers' analyses and criticisms were unusually pointed, describing "a pervasive climate of fear, intimidation, bullying and uncertainty" at TMS and TMU.
"The related reports of lack of leadership ethics and accountability that emerged was unmatched for members of this review team," the report said. "It seems this has been part of the operation for so long that it is practiced without question."
The accreditation review team also highlighted that the board members were all from MacArthur's inner circle of friends, and suggested some potential conflicts of interest.
Several board directors were financially compensated by Master's while overseeing the school and its chief executive. Others received income from groups MacArthur operates, such as Stewardship Services Foundation, a nonprofit business that provides tax and financial advice to other pastors.
"Another problem the accreditors identified is the overlap between leadership of the university and that of Grace Community Church. At least three board members have held the title of elder within the church, working under the direction of MacArthur, who has been head pastor since 1969," The Chronicle noted.
Board members said they could tell MacArthur "no" but could not recall a time when they had, when asked by accreditors. Accreditors attributed the deference to MacArthur to tight personal and financial relationships. The TMUS board of directors, however, is disputing the report's findings and conclusions.
"We do not believe that every assertion in the commission's report will eventually prove to be correct at the level initially assessed," the board said in an open letter.
The report also drew attention to potential conflicts of interest related to MacArthur's hiring of family members for positions within Master's, and the narrowness of the academic environment.
Documents also show that Master's paid over $500,000 to companies that MacArthur's son-in-law owned for various kinds of public relations marketing, graphic design and post-production work services. His son-in-law had served as the chief operating officer of Master's but is now a "special assistant" to MacArthur.
"Of the 20 full-time faculty listed on the seminary's website, not including MacArthur, 13 have received one or more of their degrees from Master's; 11 have received two or more degrees from that institution; and eight have held positions within Grace Church," The Chronicle reported, speaking to the school's insularity.
The publication interviewed Sameer Yadav, now a professor at Westmont College in California, who earned an M.Div. from Master's and said he was penalized for not agreeing with the theology of a professor while he was completing the final stages of writing a thesis for another master's degree.
"The ideological perspective you are allowed to engage is very curated," Yadav told The Chronicle, "and if you step outside the boundaries, then you're put back in line."
In an email to the Chronicle, MacArthur denied that any of his board members are beholden to him for their jobs or positions within the church. He maintained he had their full support regarding the direction of the schools.
The Christian Post reached out to the communications department at The Masters University for comment and will update this piece when a response is received.
In October it was announced that MacArthur would be stepping down as president, a job he has held since 1985.
During the next 18 months the California university will search for a new president and MacArthur will assume the role of university chancellor. He will remain in his role as president of the institution's seminary.