Justin Bieber All Around the World Video Released: Twitter Promise Kept by Singer (VIDEO WATCH HERE)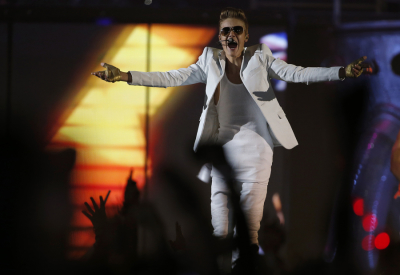 Justin Bieber's "All Around the World" video has been released, sparking huge excitement among his fans.
Bieber had been teasing fans on his social media Twitter account on Thursday about the release, leading many to believe it was going to be released imminently. Others had suggested that it was another prank and the video was not going to be released this week.
However, the Canadian crooner has not let his fans down, and has released the new surprise music video (which can be seen in full below).
Bieber had tweeted on Thursday: "I have a surprise for all my beliebers tomorrow... #AATWvideo."
That sparked a huge reaction among fans and discussions immediately kicked off about whether this was a publicity prank or real.
But on Friday Bieber again tweeted, "Told u i had a surprise ;)" along with a link to his new video.
The "All Around the World" video features Ludacris, and is a collage of Bieber dancing on his tour at different venues around the globe. The video shows him singing for fans, dancing and exploring various parts of the world.
Some have suggested that some of the lyrics, which read: "You're beautiful, beautiful, you should know it; I think it's time, thing it's time that you show it," are in fact for his ex-girlfriend Selena Gomez, although the singer has not confirmed those rumors.
The full video of Justin Bieber's "All Around the World" music single can be seen below:
Justin Bieber - All Around The World (Official) ft. Ludacris