Kim Burrell Reveals How Steve Harvey's Testimony Changed Her Life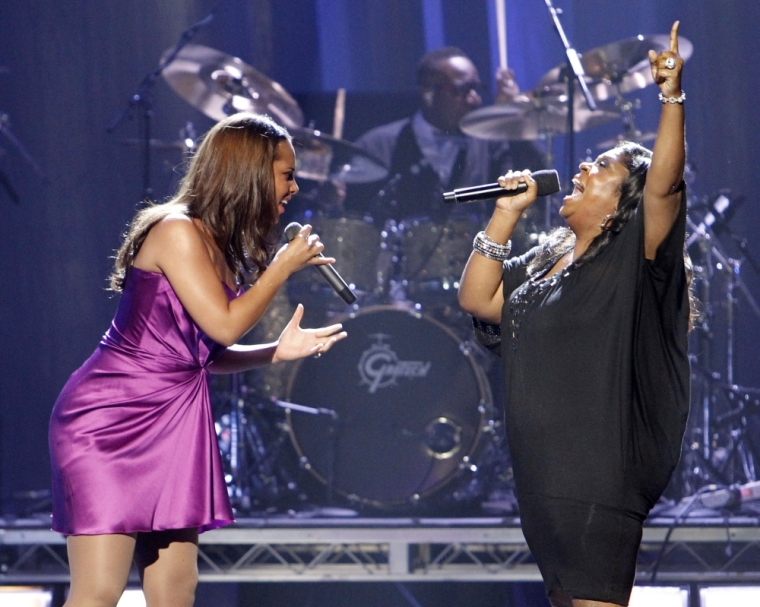 Gospel singer Kim Burrell says she credits entertainment mogul Steve Harvey for transforming her life through his powerful testimony.
Burrell, 43, performed on the "Steve Harvey Show" Wednesday to promote her sixth gospel album A Different Place. There she revealed that the talk show host had changed her life when he shared his testimony on a religious program.
"Can I just say this? When you went on a religious television show, I never been touched like that because you said everything that I wish I could have been able to say," Burrell told Harvey on the show. "This is the one thing you said that changed my life."
Burrell went on to reveal what Harvey said that inspired her.
"You go more than three syllables, count me out," she told Harvey."I ain't trying to use the big words. But the reason that I'm sitting here is because God knew He could trust me to say His name."
Although the singer is a fan of Oprah Winfrey, she admitted that interviewing with Harvey meant more to her.
"That's why I'm so glad to be here, this is bigger than Oprah for me and I love Oprah. I've been to her house and I appreciate it," she said. "But I'm saying, the status of what that stands for. This is the bigger picture for me. Thank you sir."
Tears visibly welled in the emotional talk show host's eyes as he said, "I ain't fittin' to cry."
During an interview with PBS' Tavis Smiley last month, Burrell shared why her latest album to her close to three years to create.
"This took two and a half years mainly because I had reality checks. I had the loss of Whitney [Houston], who people didn't even know how close we were until after she passed away," the pastor of Love & Liberty Fellowship Church International told Smiley.
"Then my brother died and my stepdad died. Then a year and six months later my mother passed away. Then one of my closest and best friends passed away [at] only 43 years old."
Those untimely deaths caused Burrell to struggle internally and do some soul searching.
"Coming from the Church — if I can just be kind of real with you — coming from the church, the intentionality of their teachings reached in areas that has caused me to have a good life by choice, but then there were some things that debilitated me," she said.
"I guess it could have been very much because of my perception or misunderstanding, but it caused me to hide and give a mask and it made me feel that I needed to present to the world all the time that all is well. God is good. ... It's hard to really feel the goodness of God when you really, when you have no other choice but to be sad."
According to Burrell, her new music shows pure emotion and came at a time when she needed to release those feelings.
"I'm just human and I decided I was gonna be human on this record, and fortunately it is a different place for me because I needed this," she said. "I've learned so much more of God through these losses and experiences."