Kim Davis Wins Battle Against ACLU to Keep Her Name Off Gay Marriage Licenses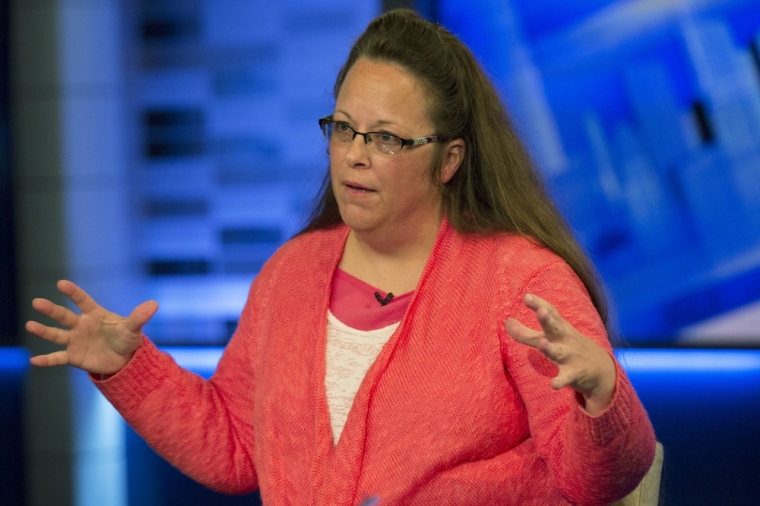 A federal judge ruled Tuesday that controversial Kentucky clerk Kim Davis has not violated a court order by asking her office to issue same-sex marriage licenses that do not include her name and title.
Davis, the elected clerk of Rowan County, became the center of a media firestorm last summer when she was held in contempt of court and jailed for over five days in September when she refused to issue marriage licenses following the Supreme Court's June ruling that legalized gay marriage.
She maintained that issuing same-sex marriage licenses with her name and title on them would be a violation of her Apostolic Christian faith, as it would symbolize that she was authorizing unions that were contrary to her conviction of God's definition of marriage as being between one man and one woman.
Davis asked former Democratic Gov. Steve Beshear to issue an executive order providing her and other religious clerks with an accommodation allowing them to omit their names on marriage certificates. Bevin, however, did not issue her requested accommodation.
As a condition of her release from jail, Davis complied to allow her office issue marriage licenses to same-sex couples, but only licenses that did not include her name and title.
It wasn't until late December when the state's new Republican Gov. Matt Bevin issued an executive order to change the wording on the state's marriage licenses so that the names of clerks are not legally required to appear.
The American Civil Liberties Union charged that the marriage licenses that Davis issued without her name and title on them would not be valid. The ACLU requested that United States District Judge David Bunning, the same judge who ordered Davis to jail, force Davis to reissue the marriage licenseses with her name on them or face further consequences.
Bunning ruled that the ACLU's argument is "moot" because Davis has complied with the federal court order by allowing her office to issue licenses to all eligible couples since September.
He added that although those marriage licenses are without Davis' name and title, they are likely valid under state law.
"Since plaintiffs filed this motion, the court has received numerous status reports from the Rowan County Deputy Clerks," Bunning wrote. "There has been no indication that Davis has continued to interfere with the issuance of marriage licenses since Sept. 20, 2015."
"Moreover, there is every reason to believe that any altered licenses issued between Sept. 14 and Sept. 20, 2015, would be recognized as valid under Kentucky law, making re-issuance unnecessary," Bunning added.
Davis' lawyer, Liberty Institute's Mat Staver, praised the ruling and claimed that the ACLU's continued pursuit in this case is because of the organization's malice toward Davis.
"From the beginning we have said the ACLU is not interested in marriage licenses," Staver said in a statement to The Washington Post. "They want Kim Davis' scalp. They want to force her to violate her conscience. I am glad the court rejected this bully tactic."
Although Bunning has cleared Davis of violating the court order, the decision over whether the marriage licenses issued by her officer without her name on them are legally valid under state law will be left for the state courts to decide.
"We are heartened by Judge Bunning's statement that couples who received altered marriage licenses will likely have those licenses honored in the future, but unfortunately, it will require a decision from the Kentucky courts to determine conclusively whether or not the altered licenses are valid," ACLU staff attorney Ria Tabacco Mar said in a Wednesday statement.