Louisiana Sheriff Says 'I Couldn't Care Less;' Vows to Hold 4th of July Prayer Event Despite ACLU Objections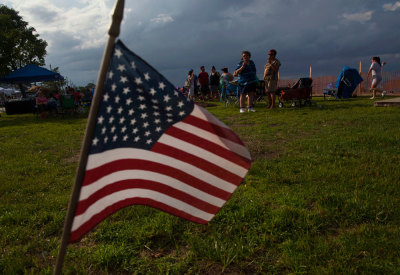 The sheriff of Bossier Parish, Louisiana has said that he does not plan to cancel a planned public prayer event from taking place, even though the American Civil Liberties Union has objected to the event as being unconstitutional.
Sheriff Julian Whittington said in a recent interview that he plans to go through with the upcoming Fourth of July "In God We Trust" rally that will include food, games, prayer, and "patriotic and God-lifting music." The ACLU has protested the event, as it is being held at the sheriff's substation in Bossier, a property owned by the city.
"Not only am I elected to serve the people of Bossier Parish, but I live here and my family lives here. I think Bossier Parish is a better place with Christianity and Christian values involved in it," Whittington told the Shreveport Times in a recent interview.
"[...] I don't work for anybody in Washington. What they do, what they say, I couldn't really care less," the sheriff added.
This is the second annual "In God We Trust" rally that Whittington has organized. Last year's event, also on the Fourth of July, was attended by Louisiana Gov. Bobby Jindal, as well as over one thousand local residents. Whittington told the Shreveport Times that this year's "In God We Trust" event will not use public funds to pay for food and labor, but it will be held at the sheriff substation.
The American Civil Liberties Union disagrees with Whittington's argument on religious freedom, saying that because the sheriff is holding the event on city-owned property, it represents a violation of the separation of church and state.
"If the event is held on sheriff's property, then by definition it is a public event that sends a message of government endorsement of Christianity. The building is paid for by public funds, and maintained by public funds," ACLU Executive Director Marjorie Esman told the Shreveport Times via email, adding that overt religious messages at the event send the message to non-Christian Bossier residents that "they are less than equal and not worthy of support by their sheriff."
Still, Whittington has told multiple local media outlets that he does not plan to back down from the event that will also honor several local veterans. Last year, Whittington refused to bar religious references from the local Young Marines chapter, a local group sponsored by the sheriff's office.
When the youth organization lost its federal funding over the use of voluntary prayer at its meetings in Bossier Parish, Whittington said he had had enough of "bureaucratic nonsense," sending a letter to Gov. Bobby Jindal demanding that the politician do something about the stripping of funds over religious references.
 "Enough is enough. This is the United States of America – and the idea that the mere mention of God or voluntary prayer is prohibited is ridiculous," Whittington said at the time.
According to the Bossier Press, despite the withdrawal of federal funds from the youth group, the Young Marines is still reportedly going strong as of March 2014.