New Boko Haram Video: Kidnapped Christian Chibok Girls Beg Parents, Gov't to Save Them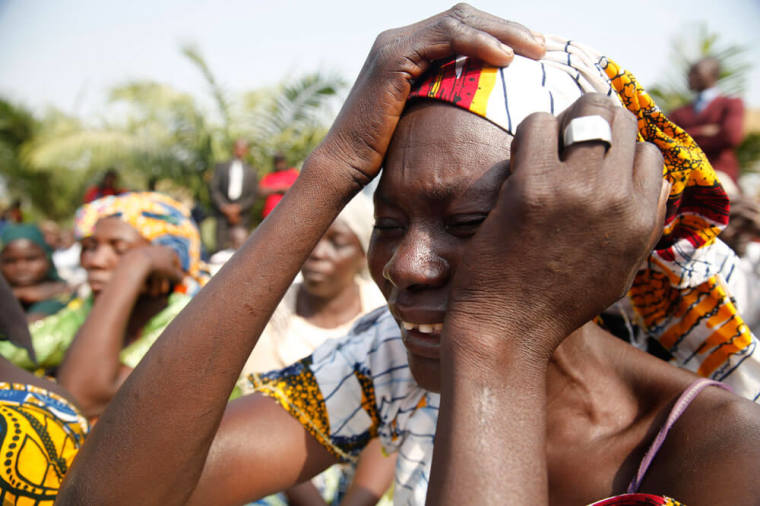 Some of the kidnapped Christian Chibok girls in Nigeria have reportedly appeared in a new video released by Islamic terror group Boko Haram, in which they are seen begging for their parents to work with the government to help save them.
"We are not happy living here," says one of the girls, who gives her name as Maida Yakubu. "I'm begging our parents to meet the government to release their people so that we can be released."
CNN reported that Boko Haram is demanding the release of some of its fighters in exchange for the kidnapped girls.
As many as 270 schoolgirls were taken in a terror raid in the Christian town of Chibok in April 2014, which sparked international outrage and put pressure on the Nigerian government to do everything it can to secure their release.
The Ministry of Information of Culture said in a statement that the government is now "in touch" with Boko Haram and "working for the girls' release."
"We are being extremely careful because the situation has been compounded by the split in the leadership of Boko Haram," added Alhaji Lai Mohammed, minister of Information of Culture, referring to recent news of division within the Islamic-State affiliated terror group.
BBC News noted that 50 girls were shown in the video, with a Boko Haram gunman revealing that some of the girls died during air strikes against the militants.
A number of others are feared to have been married off to Islamic fighters and sexually abused, a fate that has befallen hundreds of other women and girls that have been kidnapped by Boko Haram in the ongoing insurgency, which started in 2009.
Samuel Yaga, the father of abducted schoolgirl Serah Samuel, told the BBC Hausa service:
"The fact is we are overwhelmed with a feeling of depression. It's like being beaten and being stopped from crying. You helplessly watch your daughter but there is nothing you can do. It's a real heartache. Those who are still alive – we want them back. We want them back irrespective of their condition," Yaga said.
"As ordinary men, there is nothing we [the other fathers and I] can do on our own. We are just here unable to do anything with our lives. You see your child but someone denies you from having it. They are being forcefully married and they now live in terrible conditions," he added.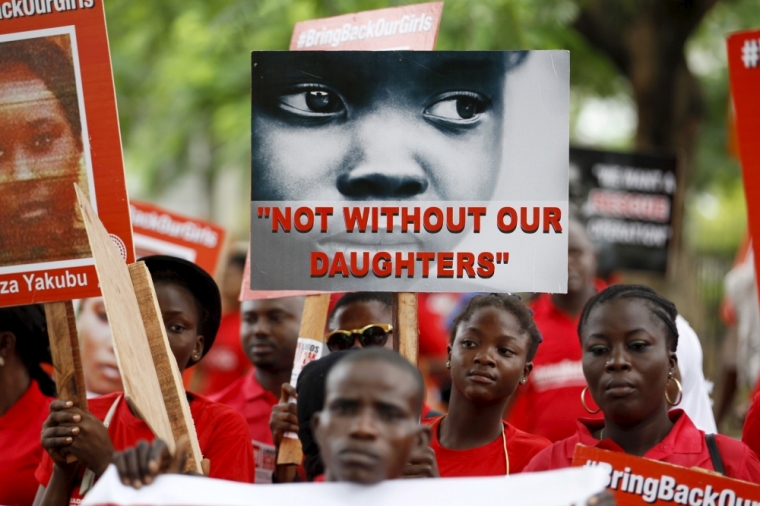 BBC Analyst Tomi Oladipo noted that the Nigerian terror group has continued asking for its demands to be met in exchange for the girls, and with the new video has attempted to show that the air strikes campaign against it has been unsuccessful.
Shehu Sani, a Nigerian senator, told CNN that longtime Boko Haram leader Abubakar Shekau released the video to show that he is still in charge despite news of division within the group.
"This is more of a show of strength to the Nigerian government and to ISIS. Shekau wants to show the country and the world that he is fully in charge and that he is the one that should be negotiated with," Sani insisted.
Back in May, a 19-year-old girl and a 4-month-old baby were found at the edge of the Sambisa Forest, one of Boko Haram's hideouts, and was identified as the first Chibok girl to be rescued from the terrorists. There has been little confirmed news of the whereabouts and the conditions of the kidnapped girls since.