Newt Gingrich on Mozilla CEO's Resignation Over Gay Marriage Row: This Is the 'New Fascism'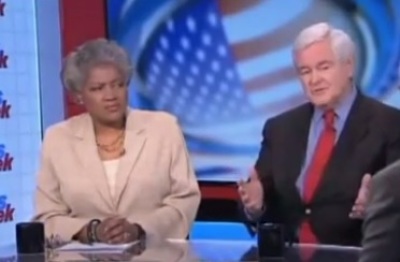 Former Republican Party presidential candidate Newt Gingrich recently spoke out against the controversy regarding former Mozilla CEO Brendan Eich, who stepped down from his recently-appointed post after it was revealed he donated $1,000 to California's Proposition 8 campaign in 2008.
Gingrich, who also previously served as speaker of the U.S. House of Representatives, described Eich's recent stepping down as the "new fascism" seeking to stamp out the conservative voice.
"If you're a young faculty member, in a lot of places, if you're a young member of a news department, and you have the wrong views, meaning conservative, you have no career," Gingrich said on the Sunday airing of ABC's "This Week With George Stephanopoulos."
"This is just the most open, blatant example of the new fascism, which says if you don't agree with us 100%, we have the right to punish you, unless you're like Hillary [Clinton] and Barack Obama, and you recant." Gingrich was referencing President Barack Obama's previous announcement in 2012 that he had "evolved" to support gay marriage, and Clinton's announcement in 2013 that she too supports same-sex marriage.
Although Eich technically "stepped down" from his new position as Mozilla's CEO late last week, many are arguing he was forced out of the executive role, due in part to a public campaign started on Twitter by bloggers and Mozilla employees who called for his resignation. Additionally, the dating website OKCupid posted a message on its homepage asking visitors to use a web browser other than Firefox, created by Mozilla, due to Eich's opposition to same-sex marriage.
Eich and Mozilla released statements in response to the controversy, saying that they welcome diversity of all kinds, including sexual orientation, at their Silicon Valley-based company. Eich also stressed that he keeps his personal beliefs out of the office. In spite of these statements, Mozilla's executive chairwoman, Mitchell Baker, announced Eich's resignation on Friday, April 4.
"Mozilla prides itself on being held to a different standard and, this past week, we didn't live up to it. We know why people are hurt and angry, and they are right: it's because we haven't stayed true to ourselves," Baker wrote. "We didn't act like you'd expect Mozilla to act. We didn't move fast enough to engage with people once the controversy started. We're sorry. We must do better."
Others have blasted Eich's resignation, with some same-sex marriage supporters, including blogger Andrew Sullivan, calling Eich's resignation an example of the New McCarthyism.
"If this is the gay rights movement today -- hounding our opponents with a fanaticism more like the religious right than anyone else -- then count me out," Sullivan wrote on his widely-read blog The Dish.
Donna Brazile, Democratic strategist and vice chairwoman of the Democratic National Committee, agreed with Sullivan on the Sunday airing of "This Week With George Stephanopoulos," saying that those supporting gay marriage must be careful to not participate in the New McCarthyism, or the ousting of those who do not agree with certain political beliefs.