Nick Vujicic Meets Manny Pacquiao Ahead of Floyd Mayweather Jr. Fight; Says He Is Praying But Not Taking Sides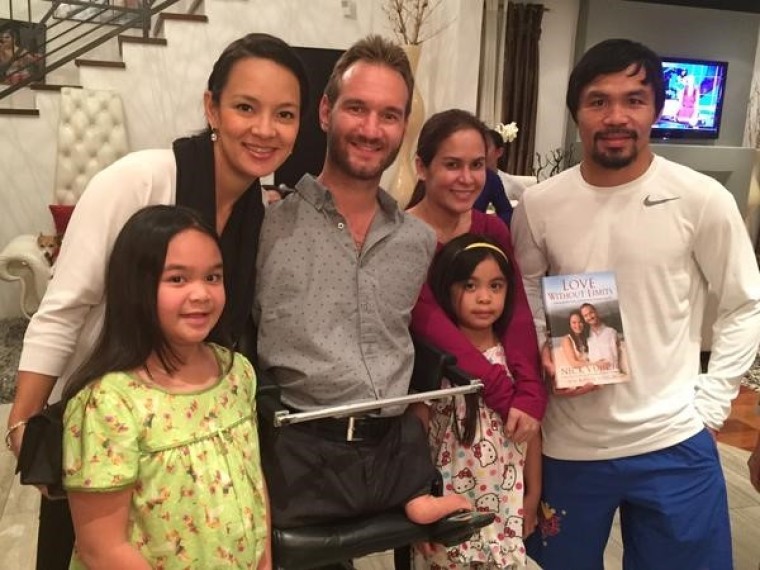 Nick Vujicic, a Christian motivational speaker known worldwide as the "limbless evangelist," has met with the family of Filipino boxing star Manny Pacquiao, who is also a vocal Christian. Vujicic said he is not taking sides ahead of the widely anticipated fight with five-division world champion Floyd Mayweather, Jr. but said he will pray for Pacquiao's safety.
"I'm here not to take side but to wish him luck and pray for his safety," Vujicic said about meeting the Filipino boxer at his Los Angeles residence on Monday, according to PhilBoxing.com. He added that he admires Pacquiao's humility, generosity and kindness.
The bout between the two superstars will take place at the Las Vegas MGM Grand Arena on May 2. Mayweather, who's undefeated in his professional boxing career, will be defending his welterweight world title.
Vujicic was accompanied on the visit by his wife, Kanae Miyahara, who he wrote about in his book Love With Limbs: A Remarkable Story of True Love Conquering All.
The Australian-born evangelist, who was born with tetra-amelia syndrome, has written a number of books about the difficulties and challenges he has faced in his life, and has inspired millions of people in speeches around the world.
Vujicic gave Pacquiao four copies of his book, Love Without Limits, and personally wrote the dedication on the book.
Pacquiao, who is also a politician and has been elected to the Philippine House of Representatives, said that the evangelist's visit has inspired and motivated him even more for his upcoming fight.
"Thank you @nickvujicic for visiting us tonight. You inspire me to be thankful and to love the Lord more everyday," Pacquiao said on Twitter.
The boxer has shared in previous interviews his personal testimony of hearing God's voice.
"I heard the voice of God and I saw two angels," Pacquiao told TheBlaze.
"When I heard the voice of God I felt like I died. … I was in the middle of the forest and I was kneeling and praying with my face on the ground and then I saw a light, a very white light and I heard the voice," he added.
Pacquiao has also met with other famous Christians in the run-up to the fight, including former Jets quarterback Tim Tebow, who was born to missionary parents in the Philippines.
Mayweather, who is also a Christian, enjoys some famous support as well. Canadian pop star Justin Bieber, a close friend of the boxer, is set to escort the defending champion to the ring on May 2.