Nicki Minaj Has Nazi Imagery in Her Lyric Video, Says Anti-Defamation League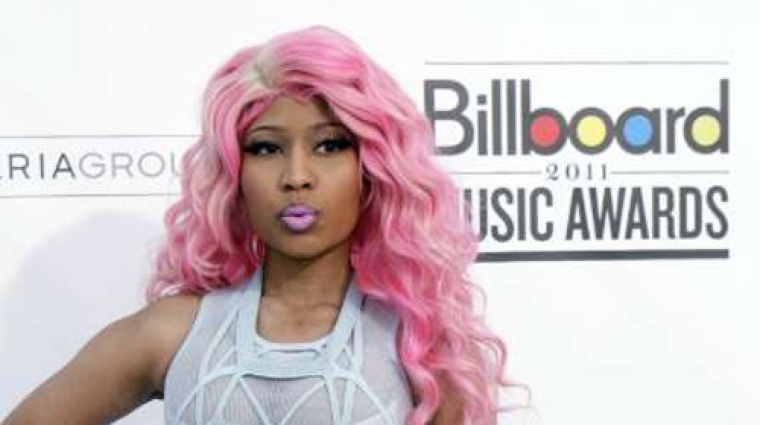 Nicki Minaj has Nazi imagery in her latest lyric video for her new single "Only," the Anti-Defamation League has claimed. The rapper's red banners over a grey background, military themes and swastika-like logo in the video has caused controversy in the hip-hop community and earned the ire of those who believe she is being Anti-Semetic.
Nicki Minaj's Nazi imagery is fairly present throughout the video, which was released Friday. An animated version of the artist sits on a red throne with red carpet while being fanned by attendants. Legions of soldiers, tanks, flying jet fighters, bombs, guns and military attire are present as well. Perhaps the most egregious violation is the stylized Young Money logo – that's her label – which is being compared to a swastika.
"Nicki Minaj's new video disturbingly evokes Third Reich propaganda and constitutes a new low for pop culture's exploitation of Nazi symbolism," Abraham H. Foxman, the national director of the Anti-Defamation League, told Fox news. "The irony should be lost on no one that this video debuted on the 76th anniversary of Kristallnacht, the 'night of broken glass' pogrom that signaled the beginning of the Final Solution and the Holocaust."
"The video is insensitive to Holocaust survivors and a trivialization of the history of that era," he continued. "The image is deeply disturbing and offensive to Jews and all those who recall the sacrifices Americans and many others had to pay as a result of the Nazi juggernaut."
Many social media users were outraged at the Nazi imagery, saying it was done for "shock value" or saying they were "totally disgusted" by the video. Others pointed out that rapper Drake is half Jewish and featured on the song, and had to have signed off on the lyric video for it to be created.
Minaj has not responded to the outrage of her fans or the ADL, but has retweeted praise for the lyric video.
This isn't the first time the rapper has courted controversy. She recently appeared in a lewd outfit for her "Anaconda" video, and earlier this year used an image of Malcolm X with an assault rifle to promote her single "Lookin' A-- N----."
To see the lyric video, click below. (WARNING: Adult content, adult language, adult themes and profanity).