Pope: There Is Only One Type of Family, Man-Woman Marriage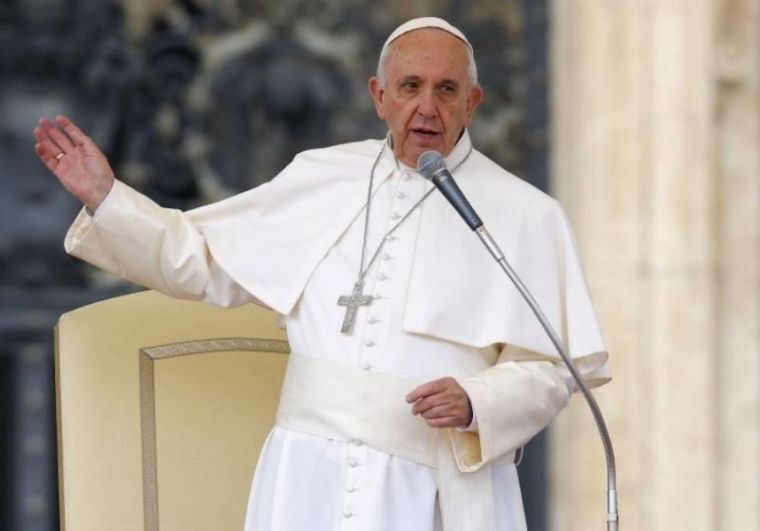 Pope Francis affirmed that only one kind of family is legitimate in God's eyes, the kind headed by a married man and woman.
"It is painful to say this today: People speak of varied families, of various kinds of family," but "the family [as] man and woman in the image of God is the only one," Francis said Saturday, in unscripted comments at the Vatican to the Forum of the Family, an Italian lay movement representing Catholic families.
While he has never disavowed the official teaching of the Church, the current pope has taken a more conciliatory tack toward the issue during his pontificate thus far, perhaps most famously in July 2013 when he told reporters "Who am I to judge?" when asked about the gay lobby, a comment some saw as a profound shift in tone from his predecessor, Pope Benedict.
The pope also lauded spouses who remain with unfaithful partners, expressing hope that they stop cheating and not pursue divorce.
"Many women — but even men sometimes do it [with wives] — wait in silence, looking the other way, waiting for their husband to become faithful again," he said.
Liberal Catholic groups were quick to state their displeasure.
"Pope Francis is wrong," said Out at St. Paul, a New York City-based Catholic ministry to LGBT individuals, on their Facebook page Saturday alongside a portion of Scripture from Matthew 12 where Jesus says "For whoever does the will of my Father in heaven is my brother and sister and mother.'"
Francis' latest words follow weeks of confusion after he reportedly told a man that God made him gay, a comment the Vatican has neither confirmed nor denied. Francis also recently warned against admitting gays to Catholic seminaries.
"If in doubt, better not let them enter," Francis said.
When he was the bishop of Argentina, Francis publicly opposed his government's support of same-sex marriage. Since becoming pope, he has commented on these issues, though not as often.
Francis also reiterated on Saturday the views of the Catholic Church on abortion, likening the elimination of children with birth defects to Nazi practices.
"It is fashionable, or at least usual, that when in the first few months of a pregnancy doctors do studies to see if the child is healthy or has something, the first idea is: 'Let's send it away.'"
Abortion is the "murder of children ... to have an easy life," he said.
"We do the same as the Nazis to maintain the purity of the race, but with white gloves on."
He also lamented how women are routinely considered part of this "throw-away culture," and are forced into prostitution.
The pope said in 2014 that it "is frightful even to think there are children, victims of abortion, who will never see the light of day; children being used as soldiers, abused and killed in armed conflicts; and children being bought and sold in that terrible form of modern slavery which is human trafficking, which is a crime against humanity."
In August, Francis will be visiting Ireland where he will speak to the World Meeting of Families, which will be held in Dublin.