Pope's Christmas Address Calls for Peace, Reconciliation (VIDEO)
Pope Benedict XVI focused his annual Christmas morning message on "reconciliation and peace," especially in Syria, North Africa, and the Middle East.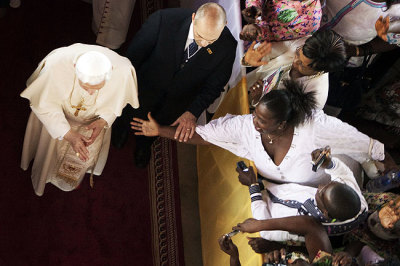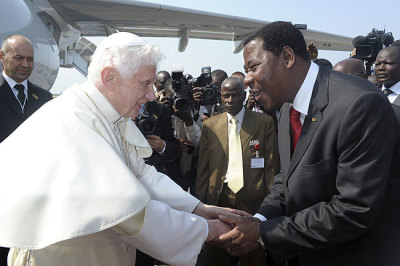 The pontiff spoke on the main balcony of St. Peter's Basilica Sunday morning to deliver his "Urbi et Orbi," Latin for "to the city and to the world" speech to thousands of tourists and pilgrims.
"May the Lord come to the aid of our world torn by so many conflicts which even today stain the Earth with blood," Benedict told the crowd.
He asked for the end to violence in Syria, where on Friday two suicide car bombings killed 44 people and left 150 injured.
He also called for a national dialogue between Israel and Palestine as well as Iraq and Afghanistan, and requested a "renewed vigor" of all those countries in North Africa and the Middle East that participated in the Arab Spring.
The pope offered a prayer for those suffering violence and injustice in Myanmar and the Horn of Africa, and urged international assistance to those victims suffering flood damage in Thailand and the Philippines.
He then wished the crowd Merry Christmas in 65 different languages, including Mongolian, Aramaic and Tamil.
At his mass on Christmas Eve the night before, the pope also addressed the issue of commercialism on Christmas, and urged those in attendance to look beyond the "superficial glitter" of the Christmas season to remember the true meaning of the holiday.
"Today Christmas has become a commercial celebration, whose bright lights hide the mystery of God's humility, which in turn calls us to humility and simplicity," he told those at the Christmas Eve mass.
The pope, 84, held his midnight mass at 10 p.m. instead of the usual midnight service. Various media outlets report that the pope looked frail at his two holiday masses, although Vatican spokespeople continue to deny any particular sicknesses. The pope is still scheduled to visit Cuba and Mexico this spring.
In the upcoming week, the pope will preside over a New Year's Eve vespers service as well as a New Year's Day mass.
Pope Evokes Hand of Jesus