Quebec Mosque Shooting: 6 Dead, 2 Arrested in Attack Targeting Muslims
Six people were killed and eight wounded in a Saturday evening attack on a mosque in Quebec City, Canada.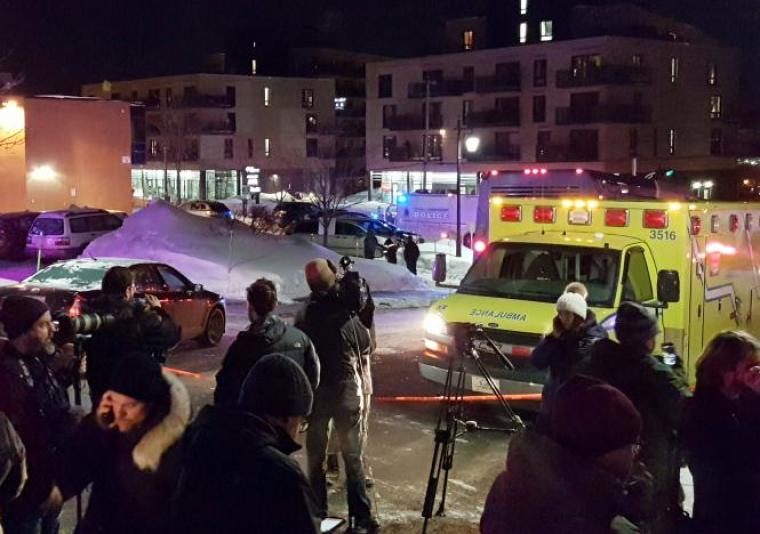 Two Gunmen opened fire inside the Quebec City Islamic Cultural Center located in the Sainte-Foy neighborhood during evening prayers on Saturday causing the death of six people and injuring eight others. Quebec provincial authorities told reporters that the victims of the attack range from 35 to 70 years of age and that some of the wounded are in critical condition.
The shooting, which began just before 8 p.m., prompted immediate action from the police who evacuated the occupants and secured the building within hours. The police said that two suspects have been arrested but they have declined to release their identities or motives.
Mostly men were gathered on the ground floor of the mosque when the shooting began; women and children were upstairs at the time. An anonymous witness who survived the attack told CBC's Radio-Canada channel: "It seemed to me that they had a Québécois accent. They started to fire, and as they shot they yelled, 'Allahu akbar!' The bullets hit people that were praying. People who were praying lost their lives. A bullet passed right over my head."
Politicians across Canada are voicing their horror at the attack while calling for solidarity with Quebec's Muslim community.
Quebec Premier Philippe Couillard lambasted the incident as a "murderous act directed at a specific community" which should be treated as an act of terrorism. He also vowed to increase security at mosques in Quebec and Montreal.
"We are with you. You are home," Couillard said, directing his comments at the province's Muslim community. "You are welcome in your home. We are all Quebecers. We must continue together to build an open welcoming and peaceful society."
Prime Minister Justin Trudeau, who this weekend pledged that Canada will continue to welcome refugees as U.S. President Trump signed an anti-refugee executive order, said in a statement: "We condemn this terrorist attack on Muslims in a center of worship and refuge."
"Muslim-Canadians are an important part of our national fabric, and these senseless acts have no place in our communities, cities and country," Trudeau said, reports Reuters.
French President Francois Hollande also issued a statement on Monday saying: "The terrorists wanted to attack the spirit of peace and tolerance of the citizens of Quebec. France stands shoulder to shoulder with the victims and their families."
The Muslim community in Quebec is worried for their safety as this incident marks a clear escalation in violence from earlier events dictated by Islamophobia; a pig's head was left in front of the same Mosque during the holy month of Ramadan last year (pigs are considered unholy in the religion of Islam).
"We're not safe here," said Mohammed Oudghiri, a resident of Quebec for 42 years who's now thinking of moving back to Morocco.