Rick Warren: Give God This if You Want to Improve Your Health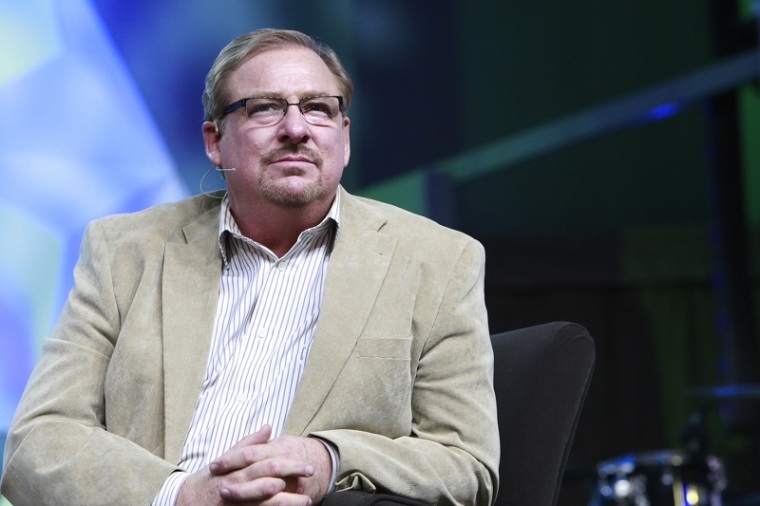 Megachurch pastor Rick Warren continued his theme of healthy living this week, and advised readers in his devotional to give God this if they want to improve their health.
In his latest post, Warren, who heads Saddleback Church in Orange County, California, writes that trusting in God can improve health, because it allows for a sense of relaxation in knowing that God is in control of all things.
When you trust in God, "you don't worry," Warren writes, referencing Proverbs 3:5, which reads: "Trust in the Lord with all your heart and lean not on your own understanding."
Psalm 116:7 also speaks on the importance of how trust leads to relaxation: "I said to myself, 'Relax, because the Lord takes care of you.'"
Emotional diseases like resentment, worry and fear can rot you from the inside out, both spiritually and emotionally, and trust in God helps relieve you from such unsavory emotions, Warren says.
"It's not just what you eat that matters. It's what eats you! You can have all the right macrobiotics and organic food, but if your body is filled with resentment, worry, fear, lust, guilt, anger, bitterness, or any other emotional disease, it's going to shorten your life," the pastor writes.
Ultimately, all Christians have a choice to wallow in their fears and worry or give them up to God through prayer.
"The more you pray, the less you'll panic. Relax, because God will take care of you!" Warren concludes.
The evangelical leader has dedicated several of this week's posts to healthy living, urging Christians to look to the Bible for tips on how to maintain their bodies, as well as focusing on their personal health when attempting to change other aspects of their life.
Warren has dedicated himself to healthy living in the past, previously leading his 30,000-plus congregation in a highly successful weight-loss challenge that resulted in the cumulative loss of 250,000 pounds by congregants over the course of one year.
 To lose the weight, church members followed "The Daniel Plan," a healthy lifestyle program that focuses on "faith, food, fitness, focus, and friends" to make an actual lifestyle change, rather than following a fad diet.
Warren also penned a book on the weight loss program along with Dr. Daniel Amen and Dr. Mark Hyman entitled The Daniel Plan: 40 Days to a Healthier Life.
Along with his dedication to healthy living, Warren has also written about the importance of healthy emotions. In May 2014, he wrote that when a believer worries, it is symptomatic of a deeper issue that indicates Jesus may not be the top focus in your life.
 Putting other priorities, such as a career, in first place above God can cause worry, Warren writes.
However, unlike these other temporal priorities, "Our relationship with God can't be taken away from us. It's permanent," Warren says. "When we put Him on the top of our list, we don't have to worry about Him being taken away someday. Therefore, we have nothing to worry about."
"Want to stop worrying? Make God and His Kingdom the priority of your life. Live for Him alone. That's always the starting point to getting over worry," Warren adds.