DeSantis defends video attacking Trump on LGBT issues: 'Totally fair game'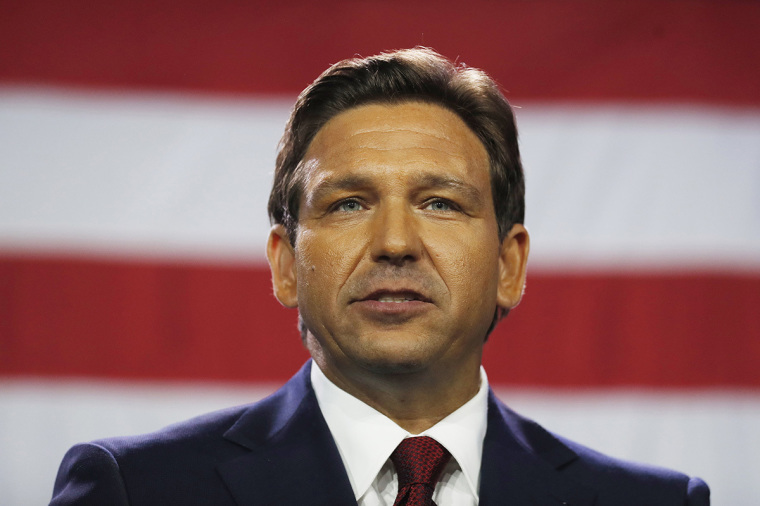 Florida Gov. Ron DeSantis, who's vying to be the Republican nominee for president in 2024, defended a video his campaign released attacking former President Donald Trump that some have derided as "homophobic."
The DeSantis War Room Twitter account shared the video (which is no longer accessible on Twitter) on the last day of so-called pride month, which is also known as the month of June. The account accused Trump of "doing more than any other Republican to celebrate" the LGBT movement. 
The video featured clips of then-candidate Trump in 2016 promising to support LGBT rights, allowing trans-identified men to compete against women in the Miss USA pageant and telling NBC's "Today" show he would allow Caitlyn Jenner to use any bathroom he wanted at Trump Tower. These clips were contrasted with headlines about DeSantis signing "the most extreme slate of anti-trans laws in modern history" and a "draconian anti-trans bathroom bill."
When Trump was president, however, his administration was criticized for rescinding former President Barack Obama's trans bathroom mandate on public schools. 
On Thursday, DeSantis discussed the video with conservative commentator Tomi Lahren, who described it as "attacking Donald Trump for, I guess, his advocacy for the LGBTQ community."
"I think identifying Donald Trump as really being a pioneer in injecting gender ideology into the mainstream where he was having men compete against women in his beauty pageants, I think that's totally fair game because he's now campaigning saying the opposite — that he doesn't think that you should have men competing in women's things like athletics," DeSantis said.
The 2024 presidential hopeful explained that he believes referring to gender as "fluid" is an attack on women's rights, and he condemned the practice of allowing men to compete in women's sports as an attack on "truth itself." 
"When they take a swimmer who swam on the men's team for three years and then switches to the women's team, and they say that's the women's swim National Champion, we know not only does that violate the opportunities for the other women swimmers, but we also know that that's a lie. It's not true," DeSantis maintained.
The Florida governor asserted that there is value in making sure that society is "rooted" in truth and not what he described as "social fads."
The swimmer DeSantis was referring to was Will Thomas, a man who later identified as female and went by the name Lia Thomas. Thomas previously competed as a man for three seasons at the University of Pennsylvania before he started competing on the girls' team during the 2021-'22 season. 
Some, however, including Log Cabin Republicans, a group that represents LGBT-identified conservatives, condemned the video's message as "divisive and desperate" in a June 30 tweet. The group accused DeSantis of alienating younger and swing-state voters with its message. 
"Conservatives understand that we need to protect our kids, preserve women's sports, safeguard women's spaces and strengthen parental rights, but Ron DeSantis' extreme rhetoric goes has just ventured into homophobic territory," Log Cabin Republicans wrote. 
"DeSantis' rhetoric will lose hard-fought gains in critical races across the nation. This old playbook has been tried in the past and has failed — repeatedly."
Last year, at the Faith & Freedom Coalition's Road to Majority conference in Nashville, Tennessee, the former president spoke to those gathered about the dangers of the "radical Left," asserting that they are "trying to destroy organized religion" and "trying to shred our Constitution."
Trump said the Republican Party "must become the party of parents' rights" and upend the "radical Left's corrupt education cartel." He accused the public education system of being "so upside down that school prayer is banned, but drag shows are absolutely allowed," adding: "You can't teach the Bible, but you can teach children that men can get pregnant and kindergarteners are allowed to pick their own gender."
"Pushing gender ideology on young people is nothing less than child abuse. And when Republicans retake Congress, they also need to crack down hard on Big Pharma for giving puberty blockers and other dangerous drugs to mutilate our children and our youth," he added.
Trump's positions on LGBT issues is not the first time the two have sparred as presidential candidates. 
In May, DeSantis responded to Trump criticizing him for signing the Heartbeat Protection Act on April 13, which prohibits abortions after six weeks into a pregnancy. Trump stated in an interview with The Messenger that many people, even those in the pro-life movement, believe that an abortion ban at six weeks is "too harsh." 
"Protecting an unborn child when there's a detectable heartbeat is something that almost 99% of pro-lifers support," DeSantis told reporters during a press conference. "It's something that other states like Iowa, under Gov. Kim Reynolds, have enacted."
Several pro-life leaders, including Live Action founder and President Lila Rose, disagreed with Trump's statement and expressed support for the ban.
Rose tweeted a poll on May 15 conducted on behalf of Susan B. Anthony Pro-Life America and the Florida Family Policy Council, showing that 62% of Floridians support the heartbeat law. Fifty-eight percent of women, 54% of Democrats and 54% of people who identify as pro-choice said that they supported the bill.
"Trump is embarrassing himself by abandoning pro-life voters and the children we are fighting for. Florida and Gov. DeSantis should be applauded for protecting life," Rose wrote in a separate tweet on the same day. "If President Trump is done with fighting for life, pro-life voters should be done with him."