Ronda Rousey Beats Up Floyd Mayweather Jr. in 'Street Fighter 4' Mod (VIDEO)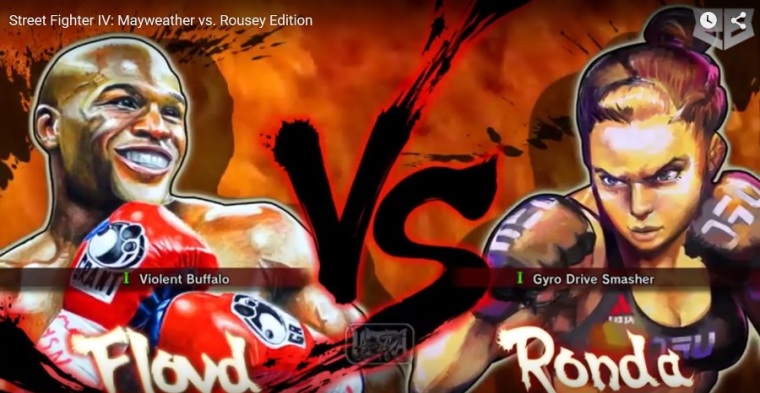 A YouTube user and gamer just modded "Street Fighter IV" to feature mixed martial artist Ronday Rousey beating up boxer Floyd Mayweather, Jr.
Richie Branson, an avid "Street Fighter" player, recently created a mod from the PC version of his "Street Fighter IV" copy to generate a fantasy faceoff between UFC MMA champion, Ronda Rousey, and fifth division world champion, Floyd Mayweather, Jr.
Following Rousey's challenge to Mayweather to face her in the ring since last March, particularly following reports of his history of domestic violence against women, and his public bashing of Filipino fighter Manny Pacquiao, Branson decided to pit both undefeated world champions against each other, albeit in the environment of "Street Fighter IV."
Customizing the game's Balrog character to resemble Mayweather and Cammy to look like Rousey, the two video game characters face off in a fake bout that boxing and MMA fans have been looking forward to, despite knowing a real match between the fighters isn't likely to take place.
Branson decked Cammy up in an outfit the real-life Rousey would wear to a fight, but may have had some trouble with Balrog, a character modeled after Mike Tyson's physical characteristics.
With "Mayweather" and "Rousey" controlled via the CPU's AI, a video Branson uploaded to YouTube shows the undefeated UFC women's champion pummeling the reigning American boxing champ, and winning Round One of their fight via KO.
According to Branson, he was bored and decided to experiment with his game's texture files, coming up with a bout the world has fantasized over ever since Rousey's first public callout to Mayweather.
The mod is made even more interesting by "Rousey's" final words to a defeated "Mayweather" telling him he isn't likely to "get anywhere until you learn a thing or two about fighting."
Branson has said he will be releasing the "Mayweather" and "Rousey" skin mods he created for the "Street Fighter VI" PC version to enable other players to vicariously experience a simulation fight between the two world champions on Capcom's popular fighting video game.