Russian President Putin Wants Closer Ties With Kim Jong Un; North Korean Leader Accused of Crimes Against Humanity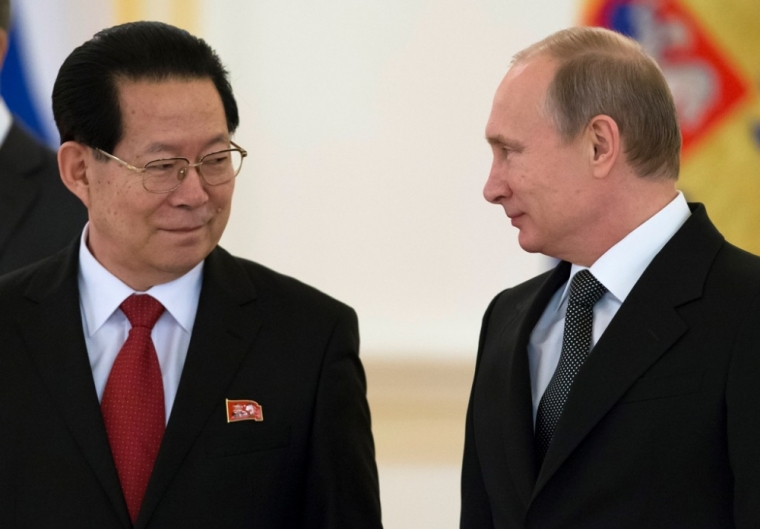 Russian President Vladimir Putin signaled Wednesday that he wants to establish closer ties with North Korea in hopes of improving regional security. Leader Kim Jong Un, meanwhile, is facing a new U.N. resolution accusing his administration of crimes against humanity.
"We maintain friendly relations with one of our neighbors, the Democratic People's Republic of Korea," Putin said in welcoming North Korea's new ambassador to Russia, Reuters reported.
"A further deepening of political ties and trade and economic cooperation is definitely in the interests of the peoples of both countries and ensuring regional stability and security," Putin added.
A Russian Foreign Ministry source said meetings with Choe Ryong Hae, a close aide to Kim and a senior official from the ruling Workers' Party, will focus on bilateral ties, economic developments and North Korea's nuclear program.
"The subject of the denuclearization of the Korean Peninsula is constantly present on the agenda of our dialogue with North Korea," the source said. "Moreover, progress in this field is a mandatory condition of lifting the sanctions against the country, which naturally impose big limits on our bilateral relations."
Kim is meanwhile facing accusations of crimes against humanity, put forth by the U.N. general assembly's human rights committee on Tuesday. The numerous offenses against human rights Kim has been accused of have been well documented in extensive U.N. reports, and now North Korea's human rights record is being referred to the International Criminal Court.
The U.N. report from February outlined the "unspeakable atrocities" being committed in North Korea, including mass starvation and extermination, while Kim was accused of spending money lavishly on private movie theaters and luxury cars.
"The gravity, scale and nature of these violations reveal a State that does not have any parallel in the contemporary world," the U.N. Commission of Inquiry on human rights in the DPRK wrote at that time.
North Korea has disputed the findings in the report, and accused western powers of having an agenda against the Pacific nation.
Choe Myong-nam, a foreign ministry adviser for U.N. and human rights issues, said that the accusations against his country are "compelling us not to refrain any further from conducting nuclear tests," in reference to North Korea's controversial nuclear program.
Choe also accused the European Union and Japan, the resolution's co-sponsors, of "subservience and sycophancy" to the U.S., and warned of "unpredictable and serious consequences" if the ICC takes up the case.
Despite the U.N. vote on Tuesday that passed the resolution calling for North Korea's human rights case to be referred to the ICC, the resolution could still be vetoed at the Security Council, where both China and Russia are permanent members and could block proceedings.