Sen. Lankford Calls on NATO Ally Turkey to 'Act More Like North Korea'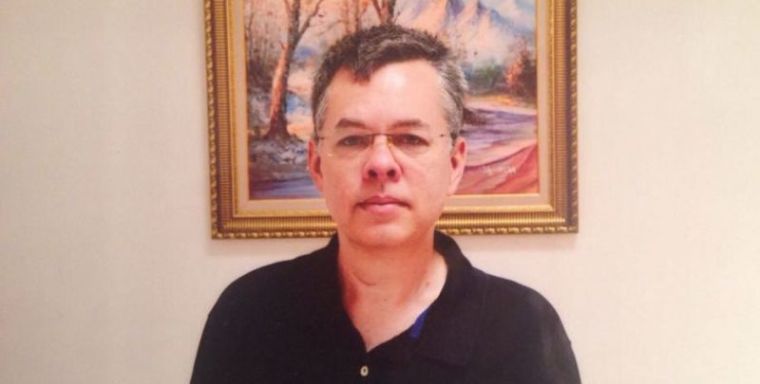 Republican Sen. James Lankford of Oklahoma has called on the Turkish government to "act more like North Korea" and release imprisoned American pastor Andrew Brunson from prison.
Appearing on MSNBC's "Morning Joe" Thursday, Lankford and Democrat Sen. Jeanne Shaheen of New Hampshire discussed what Congressional leaders are doing to put pressure on the NATO ally in hopes it will release of the 50-year-old Brunson, a North Carolina pastor imprisoned in Izmir since October 2016 on trumped-up terrorism charges.
"We are working with the House Armed Services Committee, the Senate Armed Services Committee for the National Defense Authorization [Act] to make some very clear lines here," Lankford, a former Baptist youth leader and a staunch defender of religious liberty, said. "This is a NATO ally ... that we have been very close to and partnered with in the fight on terrorism. We understand they are in a very tough neighborhood — they border with Syria, they have terrorists on their border, they have a lot of issues that are there — but it is completely unacceptable what they are doing."
Last month, Lankford, Shaheen and Republican North Carolina Sen. Thom Tillis, introduced a bill that would stop the in the transfer of 100 F-35 Joint Strike Fighter aircraft to Turkey.
Lankford said that another way they are looking to put pressure on Turkey is by trying to place sanctions on specific Turkish officials involved in Brunson's prosecution through a State, Foreign Operations, and Related Programs spending bill.
"He is basically being held hostage by President [Recep Tayyip] Erdoğan. Erdoğan has been so bold as to say, 'I will trade you your pastor for my pastor,'" Shaheen said during the segment, referring to U.S.-based Islamic cleric Fethullah Gulen, who they accuse of being involved in a 2016 coup attempt.
"He has done nothing wrong. This is a blatant attempt to blackmail the United States. We are not going to stand for it. That is why Sen. Lankford and Sen. Tillis, who has also worked closely with us, are doing everything we can to send a very strong message to Turkey that this is not acceptable. This is our NATO ally. They are supposed to be on our side."
The plea for Brunson's release comes after the communist regime of Kim Jong Un in North Korea released three American prisoners earlier this month after they had spent several months to years in prison.
"I said on the Senate floor just last week that I thought that I would never say [this]," Lankford said. "I want Turkey to act more like North Korea and actually release our hostages. This is a very odd thing to say to a NATO ally."
Lankford continued by decrying the lack of due process that Brunson has had since being arrested in 2016. Brunson spent 17 months in prison before even knowing what his charges were.
Based on secret witness testimony, Brunson has been charged as having connections to the Gulen movement and connections to the Kurdistan Workers Party. Brunson, who has served as a ministry leader in Turkey for over 20 years, denied the accusations.
Two court hearings have been held so far in Brunson's case. Brunson has been remanded back to prison until another hearing can be held in July. He could face up to 35 years in prison if convicted.
Lankford warned that the court won't even allow the people that Brunson has identified as his witnesses to speak at trial.
"You should see transcripts from the actual trial itself. They are bringing in secret witnesses from prisons and saying, 'Someone else in my prison I heard say something about Pastor Brunson.' There is no eyewitness testimony," Lankford said. "There are no actual facts here. All the people that people that Pastor Brunson has asked to bring as witnesses, the court is saying that those individuals are suspects and so [they] won't allow anyone to testify on [his] behalf."
"This is a completely invented kangaroo court that is there to try to be able prove some sort of point against the United States," Lankford added. "Again, they have held him since October of 2016 and they continue to be able to press this."
Last week, Tillis spoke at a briefing held by human rights groups on Capitol Hill and offered more detail about the types of paranoid claims being made by Turkish prosecutors in Brunson's case.
Tillis, who traveled to Izmir in April to attend Brunson's first hearing, stated that prosecutors put forth a document claiming that "churches in America are somehow woven together so that they can go to other countries and disrupt and overthrow governments, [and] that they are an intelligence gathering resource."
"This is serious allegations put forth by the prosecution and I don't think I'm embellishing anything," Tillis stated. "These are the facts."
The day after the briefing, one of the event's sponsors — an advocacy group called In Defense of Christians — suffered a cyberattack on its website. Leaders of the group claim that their website was hacked by someone on behalf of the Turkish regime.
The IDC website was down from about 10:30 a.m. until about 7 p.m. last Thursday. At one point, the website displayed the Turkish flag and played a Turkish patriotic song.
About 65,000 people have been arrested since the government began its crackdown following the coup attempt, including hundreds of journalists.