Teen Pregnancy Rates Fall to Lowest in 30 Years, Reports Pro-Abortion Group
A new study from a pro-choice think-tank reveals that pregnancy rates among American teenagers are at their lowest point in more than 30 years.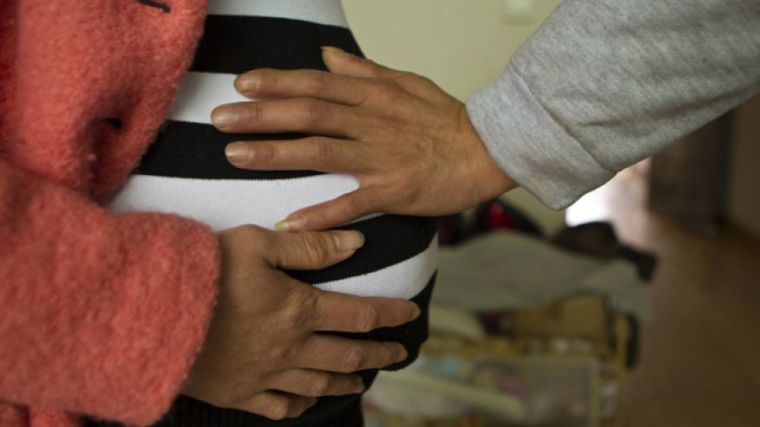 According to the Guttmacher Institute, in 2010, 57.4 out of 1,000 women between the ages of 15-19 became pregnant, a dramatic decrease from the 1990 high of 116.9. The decline has not been completely linear; pregnancy rates spiked in 2006, declined in 2008 and accelerated again between 2008 and 2010.
"The decline in the teen pregnancy rate is great news," lead author of the study and Guttmacher researcher Kathryn Kost said in statement. "Other reports had already demonstrated sustained declines in births among teens in the past few years; but now we know that this is due to the fact that fewer teens are becoming pregnant in the first place. It appears that efforts to ensure teens can access the information and contraceptive services they need to prevent unwanted pregnancies are paying off."
This decrease came despite the fact that the study also showed an uptick in sexual activity with 18 and 19-year-olds. Guttmacher researchers argued that "changes in contraceptive use are likely driving this trend."
"There is evidence that contraceptive practices are improving among older teens: A recent study found that the proportion of 18–19-year-old women reporting use of long-acting reversible contraceptive methods tripled between 2007 and 2009, and promotion and acceptance of these methods for teens and young adult women has increased. Contraceptive use may also be associated with the large decline in the pregnancy rate among sexually experienced teens," the report stated.
The study also reported a drop in the teenage abortion rate from a high in 1988 of 43.5 abortions per 1,000 women. In contrast, there were only 14.7 abortions per 1,000 women in 2010. Researchers also noted that "from 1986 to 2010, the proportion of teenage pregnancies ending in abortion (i.e., the abortion ratio) declined by one-third, from 46 percent to 30 percent."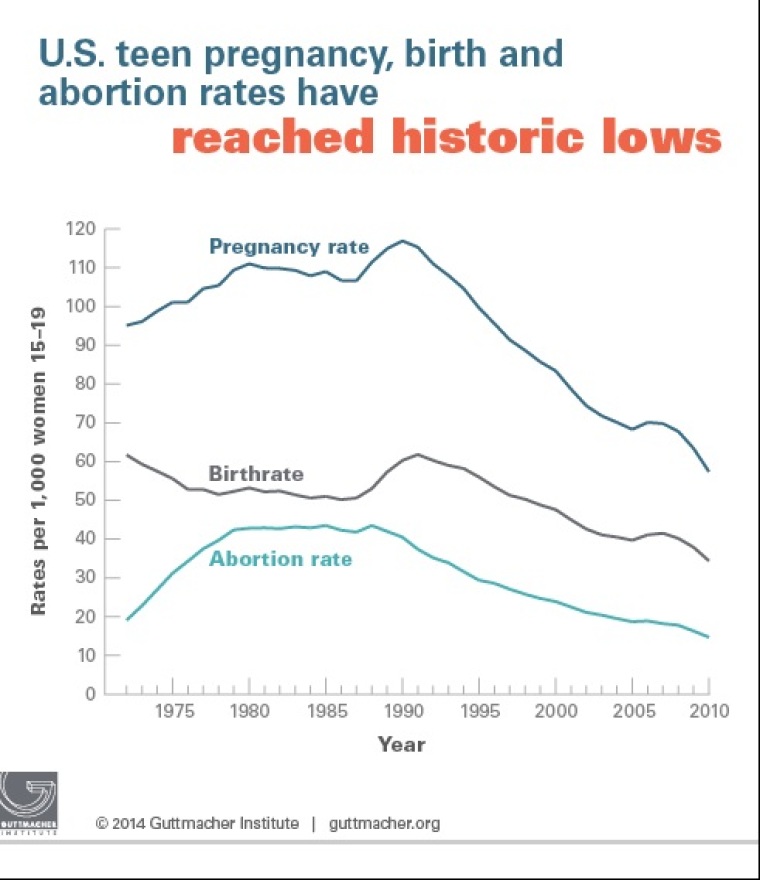 Despite the national decrease of teen pregnancy, a substantial disparity still exists with regards to states. In 2010, New Mexico reported the highest teenage pregnancy rate (80 per 1,000); New Hampshire (28 per 1,000) the lowest.
Others in the top five of teen pregnancy included Mississippi, (76), Texas, (73), Arkansas (73) and Louisiana and Oklahoma, which both reported 60 per 1,000. Of these states, only New Mexico requires sex education to include information about contraception.
Among those with the lowest rate of teen pregnancy, Vermont (32), Minnesota (36), Massachusetts (37) and Maine (37), Vermont and Maine require sex education with contraception, New Hampshire mandates HIV education and Minnesota's curriculum is abstinence only. Massachusetts has no sex education or HIV education mandate.
According to researchers, though, "it is unlikely that state-level policies alone have led to the declines seen across all states."
"A number of factors likely contribute to differences between states, including differences in the demographic characteristics of their populations, the availability of comprehensive sex education, knowledge about and availability of contraceptive services, and cultural attitudes toward sexual behavior and childbearing," explains the report, adding that further researcher is needed provide more context about the waning numbers.
Guttmacher researchers also noted across the board declines in teen pregnancy with regards to race — an over 50 percent drop for non-Hispanic white and black teens from 1990 and 2010 and a 51 percent drop for Hispanic teens. It noted that despite the drop, "wide disparities persist, and rates among both black and Hispanic teens remain twice as high as the rate for non-Hispanic white teens."