5 Things to Look for at the Southern Baptist Convention Meeting in Dallas
5 Things to Look for at the Southern Baptist Convention Meeting in Dallas
The Paige Patterson Controversy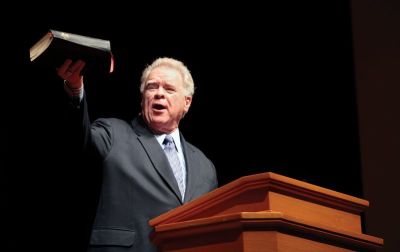 There will likely be many mentions of the issues surrounding Paige Patterson, the former Southern Baptist Convention president caught in a series of allegations regarding the treatment of women.
In late April, a blog posted an interview Patterson gave in 2000 in which he said it was "wrong" to counsel women who are abused by their husbands to seek a divorce unless the level of abuse is "serious enough."
In the weeks that followed, more allegations surfaced against Patterson, including him reportedly telling a woman not to report a rape that happened at a seminary where he was serving as president.
Eventually, Patterson was removed from his position as president of Southwestern Baptist Theological Seminary and later the seminary cut all ties to the SBC leader.
Outgoing Southern Baptist President Steve Gaines released a statement in May asking forgiveness from "all women who have been hurt by these comments and the issue of ill treatment of women within churches in particular."
"Women are created in the image of God and are of great value and worth. The church especially is no place for misogyny or disrespect for anyone," stated Gaines.
Exclusive Op-eds from the Presidential Campaigns
Some, including Thom Rainer, president and CEO of LifeWay Christian Resources, have called for a time of silence and repentance during this year's meeting.