'This is not 1875': Sheriff in Tennessee Worries After Senate Passes Bill Allowing Open Gun Carry Without Permit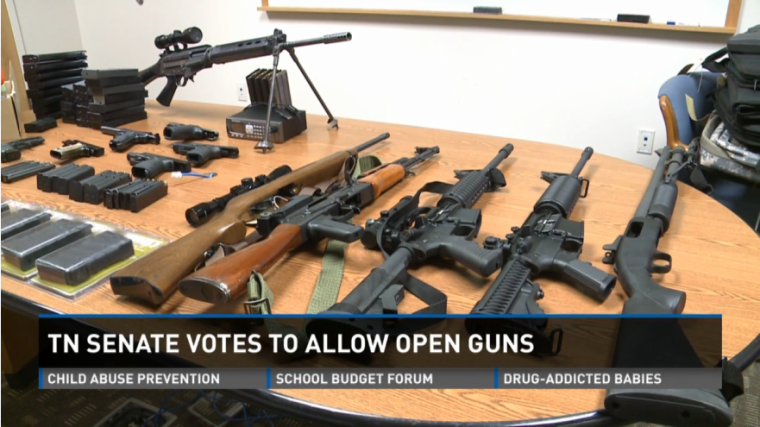 Some law enforcement officers in Tennessee are now worried about the increase in crime and other unintended consequences that could occur if a bill passed Tuesday by the Tennessee Senate to let gun owners carry their weapons openly without a permit should ever become law.
The lawmakers voted 25-2 to pass the measure filed by state Sen. Mae Beavers (R-Mt. Juliet). If it becomes law gun owners will no longer be required to do background checks, get training or obtain a permit before openly carrying a handgun in public. The only instance in which gun owners would be required to have a permit is if they intend on concealing the weapon.
Beavers believes gun ownership should be treated as a right, not a privilege, and believes her bill would support that principle.
"Tennessee law (currently) converts the right to carry a handgun into a privilege," Beavers said.
Opponents, however, claim the bill goes too far in deregulating firearms.
"If the word got out or if people knew they could come to Tennessee and carry a weapon, I'm sure that armed robberies are going to increase," said Claiborne County Sheriff David Ray in a WBIR report.
"Apparently they're wanting everyone in the state of Tennessee to carry a firearm. I'm against that. I think it's ridiculous," he continued. "This is not 1875. It just seems to me this is going to escalate all the crime to a higher level."
(Photo: Facebook/Sen. Mae Beavers)Tennessee state Sen. Mae Beavers R-Mt.
State Sens. Charlotte Burks (D-Monterrey) and Thelma Harper (D-Nashville) were the only ones who voted against the bill while six other senators abstained.
Supporters of the bill celebrated.
"I think it's a great step and a great bill," said Sen. Stacey Campfield, R-Knoxville. "I'm glad you [Sen. Beavers] were finally able to get it through."
Although he confesses to be a proud supporter of the Second Amendment, Sheriff Ray believes guns need some sort of regulation. Other local gun owners had mixed feelings about the bill.
"It's going to build up the stress on law enforcement," said Eric Maston, an owner at Tactical Advantage Corp. "It's going to make some law abiding citizens feel uncomfortable."
According to Sen. Beavers, however, "such activity has not caused increased danger to public safety or resulted in increased crime."
Tennessee currently allows gun ownership without a permit if the weapon is kept in the home. Legislation has been debated this year on allowing gun owners to carry weapons in a vehicle without a permit.
The Open Carry Firearms Freedom Act, Senate Bill 2424 will widen the scope of that freedom to carry a gun to the general public.
Sen. Beavers has also sparked a passionate debate about the bill on her Facebook page where there is no consensus about the proposed measure.
"Constitutional carry should be law of the land....background checks are nothing more than feel good legislation.... the 'bad guys' ain't gonna follow the rules anyway.... Open carry makes sense...... MORE people would be armed and prepared to defend themselves against the s**ts who are not going to follow ANY rules anyway," wrote Constable Tom Dallas.
"Well, we need a license for just about everything that we want to do, but I guess now that it is ok to openly carry and display a weapon without any type of license or pre-qualification or training to carry that weapon. I would think that the opportunity for violence has just increased by about 1000% with the passage of this law. Gun nuts: When you get your head blown off, try to remember that you were 'just trying to exercise' your 2nd Amendment Right to bear arms. Strange that every industrialized/civilized country in the world has strict gun laws prohibiting possession/display, but we decide 'we are different'," wrote Dennis Vick.
John Harris, a lawyer and the executive director of the Tennessee Firearms Association said the primary impact of the bill if it were to pass in the Tennessee House would be to make it easier to transport a gun. He doubts however that the bill will pass the House.