Tim Tebow 'Outstanding Example' for Bad Boy NFL Players, Says Osi Umenyiora
Tim Tebow is a shining example for NFL players who have spent the offseason getting themselves into trouble, according to New York Giants defensive end Osi Umenyiora.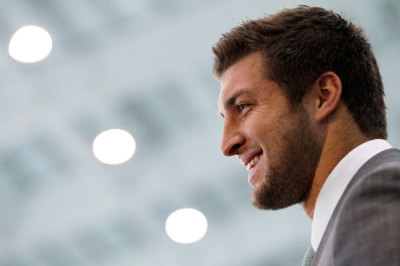 Umenyiora recently spoke at an M&M store in New York City about Tebow's influence after 31 NFL players were involved in legal issues during the offseason. One of the players is Umenyiora's teammate, David Diehl, who was arrested for a DUI last June.
"I know that everybody likes to make fun of Tim Tebow and talk about him, but he sets an outstanding example for people," Umenyiora told New York Daily News reporters recently. "I think if more people would focus and try to be like him and carry themselves the way he does, I think things would be better."
For Tebow, the role of being a Christian athlete is important.
"The world looks at me as a football player who's a Christian, but I look at the world and say, 'I'm a Christian who happens to play football,'" Tebow said during a Father's Day speech in San Diego.
The Giants' defensive end said he couldn't understand why there were so many incidences of players getting in trouble.
"For the life of me I can't understand it. It's just ridiculous," Umenyiora said in a Bergen Record report. "People need to be more focused and more grateful for what it is that they have."
The NFL player recently returned from a trip to Nigeria, and said people in the league should be more thankful for what they have.
"Coming from where I came from and seeing what I saw, all that poverty, people who have nothing, they would cut off both their legs to be given the opportunity that (NFL players) have," he said. "To be messing around like that is really unfortunate."