Tony Perkins on Lifting Boy Scout Gay Ban: 'It Doesn't Pass the Parent Test'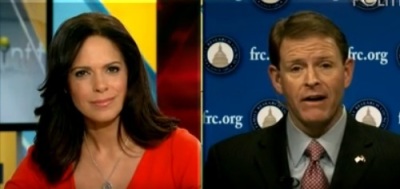 Tony Perkins, president of the Washington, D.C.-based lobbying organization Family Research Council, engaged in a heated debate on Wednesday with CNN's Soledad O'Brien regarding the Boy Scouts gay ban, a policy that is currently being reconsidered by the national youth organization.
On CNN's "Starting Point With Soledad O'Brien," Perkins defended his support of the gay ban, telling O'Brien that lifting the ban "doesn't pass the parent test."
"First off, I mean look, this doesn't pass the parent test," Perkins told O'Brien. "You're going to let leaders come in who are attracted to males."
"I'm a parent. I have five children, I have three daughters. My heterosexual neighbor: man, like him, good guy, got kids of his own. I'm not going to let him go camping with my girls. Why would I let a man who was attracted to other males go camping with my boys?" Perkins asked.
O'Brien then asked Perkins if he was forming a connection between pedophilia and homosexuality, asking: "Are you saying that someone who's gay is a pedophile, sir?"
Perkins firmly denied this suggestion, arguing that he was merely saying that lifting the gay ban does not encourage a protective environment for children.
"No, I never said that, you said that," Perkins responded.
"They are trying to create an environment that is protective of the children. This doesn't make it more protective. There is a disproportionate number of male on boy, when we get into pedophilia, it's male on boy, there's is a higher incident rate of that. We've never said all homosexuals are pedophiles," Perkins said.
"That's not what we've said," he stressed.
Perkins went on to assert that the issue of open homosexuality in the youth organization is not just about Scout leaders, but also about Scouts themselves.
"Is that right, for Boy Scouts who are out wanting to learn the basic tenants of scouting, to have to worry about whether or not the boy in the tent with them is attracted to them, is that right?" Perkins questioned.
Perkins concluded by suggesting that those who wish to allow openly gay membership in youth organizations form an entity separate of the Boy Scouts of America.
"Look, these folks that want to do that, they're free to set up their own organization. Why do they want to come and change an organization that's been around for over 100 years and make that organization, those scouts, accommodate them?" Perkins asked.
The Family Research Council, along with 41 other allied organizations, released an ad in USA Today on Monday, urging the Boy Scouts of America to stand firm with its values and keep its gay ban.
In a statement provided to The Christian Post, the FRC urged the youth organization to "not surrender to financial or political pressures by corporate elites on the issue of homosexuality."
While many pro-family groups have contested the possible lift of the ban, others, such as U.S. President Barack Obama, have supported the lift.
In an interview with CBS on Feb. 3, Obama, who is honorary president of the Boy Scouts of America, said he believes "gays and lesbians should have access and opportunity the same way everybody else does, in every institution and walk of life."
On Wednesday, the Boy Scouts of America's board of directors decided to hold off on a vote regarding lifting the gay ban after a three-day meeting at the Boy Scouts headquarters in Irving, Texas.
"After careful consideration and extensive dialogue within the Scouting family, along with comments from those outside the organization, the volunteer officers of the Boy Scouts of America's National Executive Board concluded that due to the complexity of this issue, the organization needs time for a more deliberate review of its membership policy," the youth organization said in a statement.
A vote regarding the ban will now be held among approximately 1,400 voting members of the organization's National Council at the Boy Scouts National Annual Meeting in May 2013.