Tony Romo Tells Pastor He Still Wants to Win Super Bowl as Dallas Cut Looms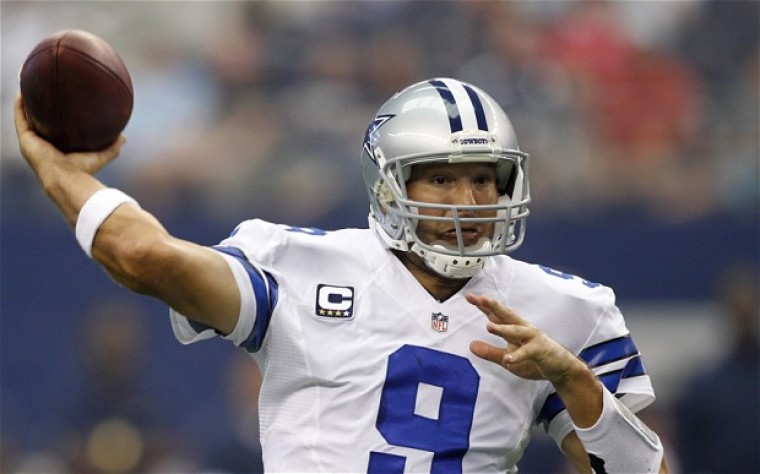 After spending more than 14 years with the Dallas Cowboys including a decade as the NFL team's starting quarterback, professed Christian Tony Romo says he still wants to win the elusive Super Bowl championship, as reports swirl that he could be released from his contract with the team as early as Thursday evening.
Jason La Canfora of CBS Sports reported that there is "a very strong likelihood" the Cowboys will release Romo Thursday if they don't get a "strong trade" proposal from another team. ESPN's Adam Schefter and Todd Archer also reported that the Cowboys will be releasing Romo on Thursday. Archer explained that it is unclear "whether the Cowboys will outright release him or designate him as a post-June 1 cut."
The new league year is set to begin at 3 p.m. Thursday and the official announcement on Romo's future could come as early as then.
Pastor Tony Evans of Oak Cliff Bible Fellowship and former Cowboys' chaplain told NBCDFW that despite the looming announcement Romo, who turns 37 in April, is trusting God and says he still wants to win a Super Bowl even if it's with another team.
"His mood is great," said Evans, who spoke with Romo on Tuesday. "He says, 'God is in control.'
"I'm hurt that we're losing him, yet I want him to be free to pursue what his abilities will allow him to pursue as long as that passion is there," Evans added, explaining Romo is still excited about football.
"Let's put it this way: His last words to me were: 'The passion is still there.' ... He wants to know where he best fits. And wherever he best fits is where he wants to go because he wants to win. If he plays, he wants to win a Super Bowl. But he wants to be healthy for his family," said Evans.
Although Romo's "passion is still there," Evans said the veteran quarterback is "ready to move on, kind of, because he loves Dallas."
Romo has the numbers needed for a Hall of Fame career. He's already thrown for more than 34,000 yards with 247 touchdown passes and 117 interceptions. His career passer rating of 97.1 is third all-time in NFL history, behind only Green Bay's Aaron Rodgers and Seattle's Russell Wilson. He and San Diego's Philip Rivers, however, are also the only quarterbacks who own a top 10 passer rating but not a Super Bowl ring.
Romo took a big hit last year when he got injured in the preseason. Things went downhill from there when Dak Prescott was selected in the fourth round of the 2016 draft. Romo lost his spot on the team as starting quarterback and was replaced by the rookie but he kept his faith in Christ alive.
"To me, it's no different than trying to become a great football player or a great dad, to grow and become better and stronger in your faith. I'm far from perfect. I know that. Every day is a battle to try and become the person that you want to be. Having the faith that I have allows me to believe that I can continue to grow as a person. The grace I've received from the Lord and Jesus allows you to keep trying to get better," he said.