Trump vows to fight 'transgender insanity,' sign law banning 'child genital mutilation'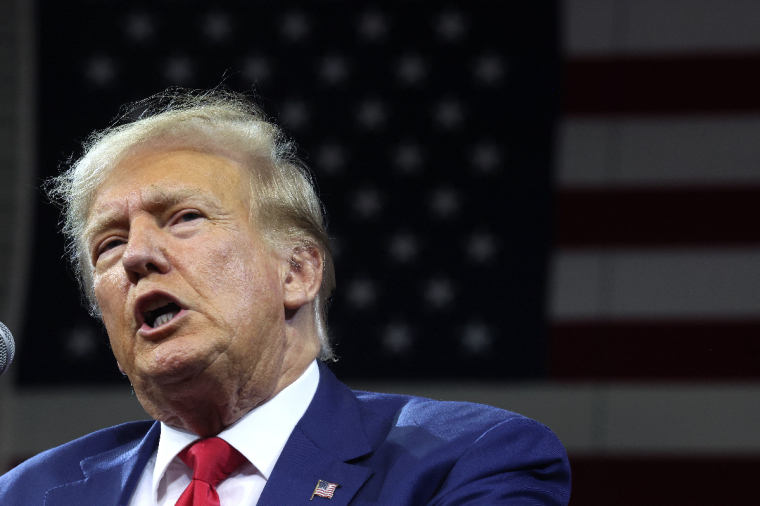 Former President Donald Trump has vowed to clamp down on "transgender insanity" if he returns to the White House in 2025 by building on actions taken at the state level to prohibit some of the most controversial aspects of LGBT ideology.
Trump addressed a crowd in Rapid City, South Dakota, on Friday, where he outlined "some of the agenda [he'll] be immediately implementing" if he wins the 2024 presidential election.
"On Day 1, I will sign a new executive order to cut federal funding for any school pushing critical race theory, transgender insanity and other inappropriate racial, sexual or political content on our children," he said.
"I will keep men out of women's sports," he added. "I will sign a law prohibiting child genital mutilation in all 50 states."
"Could you imagine 10 or 15 years ago having some politician ... saying, 'I will stop child mutilation without parental consent?'" Trump asked. "Can you imagine if you had made that statement 10 years ago, they would say, 'Is this guy crazy?'" 
To sign such a bill into law would likely require conservative majorities in both chambers of U.S. Congress.
Trump's vows to take action designed to combat "transgender insanity" comes as several states have banned trans-identified youth from obtaining life-altering surgeries to align their reproductive organs and physical appearance with their stated gender identity, which he referred to as "child genital mutilation" in his speech.
In addition to sex change surgeries, minors with gender dysphoria are often prescribed puberty blockers and/or cross-sex hormones. 
The American College of Pediatricians has identified potential side effects of puberty blockers as "osteoporosis, mood disorders, seizures, cognitive impairment and when combined with cross-sex hormones, sterility." Meanwhile, the medical organization has warned that cross-sex hormones can cause youth to experience "an increased risk of heart attacks, stroke, diabetes, blood clots and cancers across their lifespan." 
Currently, concerns about the long-term impact of gender transition procedures have prompted 22 states to ban the performance of some or all of them on minors: Alabama, Arizona, Arkansas, Florida, Georgia, Idaho, Indiana, Iowa, Kentucky, Louisiana, Mississippi, Missouri, Montana, Nebraska, North Carolina, North Dakota, Oklahoma, South Dakota, Tennessee, Texas, Utah and West Virginia. 
The former president's promise to "keep men out of women's sports" addresses concerns about the fairness of allowing biological males who identify as females to compete in women's sports in light of the biological differences between men and women. USA Powerlifting has listed some differences between the sexes that give men an advantage in sports, such as "increased body and muscle mass, bone density, bone structure, and connective tissue." 
Additionally, a 2020 study from the British Journal of Sports Medicine found that trans-identified males, on average, maintain an advantage over their biologically female counterparts even after two years of hormone use. Real-world examples of trans-identified male athletes shattering women's sports records, especially in the case of trans-identified male swimmer Lia Thomas, have also motivated calls for reform at the state and federal levels. 
Currently, 23 states have banned trans-identified males from competing in women's sports: Alabama, Arizona, Arkansas, Florida, Idaho, Indiana, Iowa, Kansas, Kentucky, Louisiana, Mississippi, Missouri, Montana, North Carolina, North Dakota, Oklahoma, South Carolina, South Dakota, Tennessee, Texas, Utah, West Virginia and Wyoming. 
Although not directly related to LGBT issues, Trump's pledge to cut funding for schools that promote critical race theory comes as the ideology continues to face scrutiny from the parental rights movement.
Encyclopedia Brittanica defines critical race theory as an "intellectual and social movement and loosely organized framework of legal analysis based on the premise that race is not a natural, biologically grounded feature of physically distinct subgroups of human beings."
Instead, adherents to critical race theory believe that race is "a socially constructed (culturally invented category) that is used to express and exploit people of color." They view racism as "inherent in the law and legal institutions of the United States insofar as they function to create and maintain social, economic, and political inequalities between whites and nonwhites, particularly African Americans."
Some states have taken action to ban critical race theory from their public schools, including Idaho and North Dakota. Critical race theory has also loomed large in school board races, as an advocacy group called the 1776 Project PAC has emerged to back candidates opposed to critical race theory in such elections. 
The 1776 Project PAC has seen several of its preferred candidates emerge victorious in school board races in metropolitan Texas and Florida while achieving a mixed success rate in last year's general election and contests that took place in the Midwest earlier this year. 
Trump's speech in South Dakota comes as the current RealClearPolitics average of polls shows Trump is the leading candidate to win the Republican nomination to represent his party in next year's presidential election. The average, which includes polls taken from Aug. 24-Sept. 10, shows Trump securing 53.6% support among Republican primary voters. Florida Gov. Ron DeSantis is in a distant second place at 13.3%, while all other candidates fail to crack single digits.