Tucker Carlson warns US 'speeding toward assassination' of Trump ahead of 2024 election
Ex-Fox News host: 'They have decided there's something about Trump that's so threatening to them'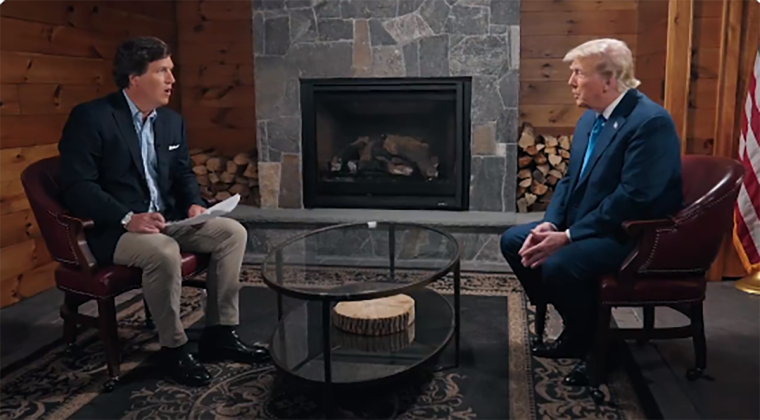 With just a few months to go before the first primaries of the 2024 presidential election, Tucker Carlson says he's concerned that former President Donald Trump could be assassinated.
The former Fox News political commentator made the startling comment during a podcast with Adam Carolla in which the two discussed Carlson's exit from Fox News, the CIA, Russia, and a number of hot-button topics.
After Carlson shared his belief that the CIA was involved in the murder of President John F. Kennedy, Carolla asked him, "Are they going to let Trump be president?"
Carlson replied, "Look, if you know they protested him, they called him names, he won anyway. They impeached him twice on ridiculous pretenses; they fabricated a lot about what happened on January 6th in order to impeach him again, it didn't work. He came back, then they indicted him, it didn't work.
"He became more popular, then they indicted him three more times, and every single time his popularity rose. So if you begin with criticism, then you go to protest, then you go to impeachment, now you go to indictment and none of them work, what's next? I mean, you know, graph it out, man! We're speeding toward assassination, obviously." 
Last week, Trump surrendered to officials in Fulton County, Georgia, after a grand jury indicted him on a long list of charges, including racketeering, conspiracy to commit forgery in the first degree, conspiracy to commit false statements and writings, as well as conspiracy to commit filing false documents.
The charges are in connection with a phone call he made to Secretary of State Brad Raffensperger shortly after the 2020 presidential election, telling him, "All I want to do is this: I just want to find 11,780 votes, which is one more than we have, because we won the state."
Carlson pointed to Trump's trial set for March 2024, coinciding with the first primaries of the election cycle, as a political move to keep the former president from running again. 
"They have decided — permanent Washington, both parties — have decided that there's something about Trump that's so threatening to them they just can't have it," he said, adding that he believes the government's case against Trump " basically consists of trying to send him to prison for the rest of his life for complaining about the last election."
He compared the indictments to political persecution more common in third-world countries rather than the United States. 
"If this were happening in Moldova, the State Department would issue an all-hands-on-deck order to let the world know this is not a legitimate government, and yet our government is doing it," he said. 
"Like, it's really hard to overstate how bad this is. … I don't know where it's going, but there's a collision that's clearly imminent."
During an interview with Trump last week, Carlson asked the former president whether he was concerned about the threat of assassination, citing the same chain of events he referred to in Carolla's podcast.
"It started with protests against you and then it moved to impeachment twice and now indictment," he said. "Are you worried that they're going to try and kill you? Why wouldn't they try and kill you? Honestly."
"They're savage animals, they are people that are sick, really sick," Trump replied. 
According to the RealClearPolitics average of polls measuring the preferences of Republican primary voters based on surveys taken between Aug. 10-21, Trump has the support of 55.4% of Republican primary voters. His closest rival, Florida Gov. Ron DeSantis, has 14.3% support.