Women Can Have a More Fulfilling Marriage if They're Submissive, Christian Author Says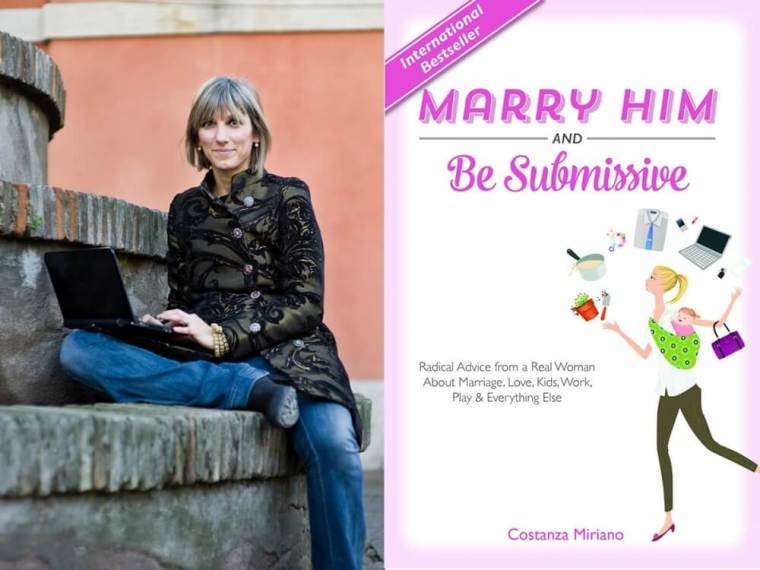 Italian writer Costanza Miriano angered women's rights activists across Europe in 2013 when she released her best-selling book, Marry Him and Be Submissive, advising women to forsake the heresy of feminism and submit to their husbands in order to enjoy a more fulfilling life.
She is now hoping to reintroduce this concept to the modern American woman — hinged on the advice doled out by St. Paul in the book of Ephesians — in the English translation of the book published last month by TAN Books.
"You will have to learn from the advice of St. Paul and be submissive. That means, literally, as we say in Italian, sotto messo — 'placed under' so as to be the support of your family. You must be its foundations. You will sustain everyone, your husband and your children, by adapting, accepting, suggesting, and sweetly engaging," she writes.
"It is he (or in this case she) who is below, who holds up the world, not the person who places himself above others. Only you will be able to do this, because in your family you are the only adult woman, meaning the only one who is flexible, gentle, solid, strong, patient, and far-sighted," Miriano advises women.
Feminism, she explains, has devolved into a destructive force on the family and society.
"Feminism was in its own way flowering — an explosion of the need to feel loved, understood, and valued. It's just that it took the wrong path when it focused on the affirmation of self. At that point, we started to play the power game; in fact, we should have done away with that logic that we were protesting against," Miriano writes.
"By 'we,' I mean our mothers and older sisters. In the end, it ended up worse for us. Emancipation — which started out as a claim for justice — led to a distorted idea of equality. Equality is not sameness. It is about giving equal dignity to two identities that could not be more different," she explains.
Since the explosion of the feminist movement, she says, modern women no longer have a clear life path to follow when compared with previous generations.
This uncertainty, according to Miriano, has led to a barrage of definitions of what it means to be a woman, ignoring the natural call for women "to collaborate in giving life in every way possible."
Marry Him and Be Submissive will help guide women back to that natural call, she says.
Below is a lightly edited transcript of The Christian Post's Q&A with Miriano.
CP: What has the reception of your book been like in the United States so far? What have people been saying to you about your book?
Miriano: Some friends explained to me that in the States, as we see you from Europe, you are "black or white" people. It's an Italian way of saying that you are clear, clean. You don't like grey. So, in their opinion, my book could be loved, because it expresses a serious and clear (for someone fundamentalistic) way of seeing things. I don't know what is going to happen, maybe it's too early to say.
CP: Feminists in Europe were really angry about your book in 2013. Have you been approached yet by any feminists in America?
Miriano: Not yet, actually. But I'm ready! I think feminists are basically wounded women. So I can't be upset with them. It's the same thing that happened to me with the Spanish feminists who were demonstrating in squares against my book: what I felt was tenderness.