Cheney 'Deep Doo-Doo' Comments: Former VP Addresses Republicans on North Korea (VIDEO)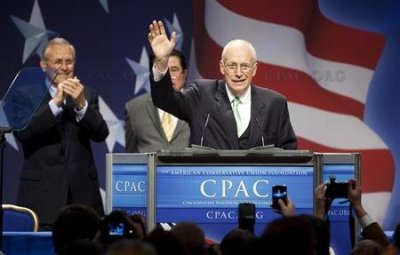 Dick Cheney has said the U.S. is in "deep doo-doo" in a warning to Republican leaders on Tuesday.
The former Vice President issued a blunt warning to the Republicans in Congress as he spoke about America's relations with North Korea.
Cheney said that North Korea's leader, Kim Jong Un, was extremely unpredictable and has no concerns about the world views of the United States or her allies.
He also said that the North Korean leader's inexperience was also an issue as he would not be skilled in diplomacy or politics.
The 72 year old former vice president has had a history of heart problems, but underwent a successful surgery in 2012.
Many Republicans were excited to see him addressing Congress.
Rep. Steve Southerland of Florida said Cheney "looked really good, spoke really clearly, lucidly."
"It was nice to see him doing well," Southerland said, comparing him to the last time he had seen him when he "didn't look good – very frail, but in this meeting he looked great."
Cheney addressed the meeting for just about 10 minutes, and in his speech he also compared the North Korean leader to Saddam Hussein by saying that "you never know what they're thinking." He told leaders to not "eliminate any possibility" and be on alert for any scenario.
"Here's a young guy we don't know very much about – have very little intel on him, so we just need to make sure that we don't assume why he's doing what he's doing because he could be doing what he's doing for any number of reasons," Cheney reportedly said.
Here is a video interview with Dick Cheney speaking this week about the passing of former British Prime Minister Margaret Thatcher:
Former VP Dick Cheney Remembers Margaret Thatcher