Face-Sized Tarantula Photo Goes Viral: Monster Tarantulas Found in Sri Lanka (PHOTO, VIDEO)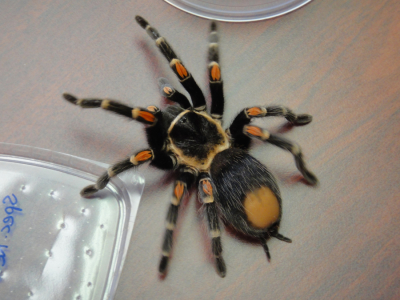 A face-sized tarantula has been discovered in Sri Lanka, and a photo of the eight-legged giant has since gone viral, freaking out arachnophobia sufferers across the globe.
The photo of the huge spider was shared by Wired on April 2, shocking readers and immediately being shared across the Internet.
The newly discovered "face-sized" tarantulas were reportedly found living in the trees in Sri Lanka, and some were even found in an old doctor's quarters inside a local hospital in Mankulam, according to the Wired report.
Thankfully for arachnophobia sufferers from other countries in the world, the giant tarantulas have not been seen anywhere else outside of northern Sri Lanka.
Scientists have already commented that the giant spiders' natural habitat is likely old trees, however, they may have recently been found in other places, such as abandoned buildings, due to problems with deforestation and the destruction of their homes.
The face-sized tarantula has been named "Poecilotheria rajaei."
Arachnologist Robert Raven, who is a curator at the Queensland Museum in Australia, has reportedly said that he believes more research is needed to confirm that the newly found tarantulas are indeed a new species, or whether they are simply a local variation of an already known about species.
Tarantulas comprise a group of often hairy and very large arachnids belonging to the Theraphosidae family of spiders, of which approximately 900 species have been identified.
Despite tarantulas often sparking fear into those with a adverse reaction to spiders, in fact most species of tarantulas are not dangerous to humans, and some species have become popular in the exotic pet trade.
A photo of the giant "faced-sized" tarantulas recently found in Sri Lanka can be seen on Wired by clicking here.
Here is a video of a giant tarantula from National Geographic:
Largest Spider in the World - GIANT Tarantula