How Does ISIS Punish Its Captives?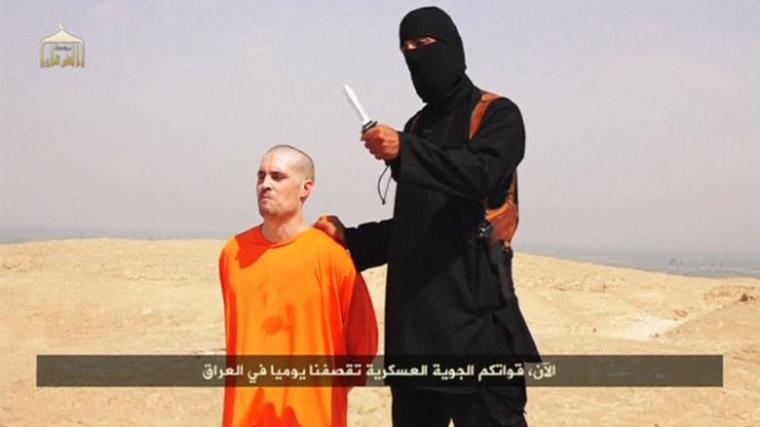 ISIS released a collection of harrowing images showing the enforcement of the "hudud" (Quranic punishment) in the Syrian province of Deir Ezzor. The terror group has been inflicting draconian punishments to instill fear on people living under its control.
In one disturbing photo, a man is seen teetering on the edge of a tall building before being pushed to his death for supposedly performing homosexual acts. Homosexuality is a sin under Sharia law that is punishable by death. The locals who were made to watch the punishment were also ordered to throw stones at the bodies that crashed to the ground.
In another picture, a man accused of stealing is seen getting his hand hacked off while blindfolded. ISIS justifies the punishment, which is drawn from Surah Al-Ma'idah 5:30 in the Islamic scriptures: "[As for] the thief, the male and the female, amputate their hands in recompense for what they committed as a deterrent [punishment] from Allah. And Allah is Exalted in Might and Wise."
Another man, who was accused of smoking a cigarette, was whipped in public on a busy street. He is lucky as ISIS religious police in the past beheaded a police officer and left a cigarette stick in his mouth. They also inscribed a message on his corpse that read: "this is evil, you Sheikh."
After capturing Syria, ISIS published "Clarification [regarding] the hudud (a set of fixed punishments)," a hardline religious penal code that lists the crimes punishable by amputation, stoning, crucifixion and decapitation. The document was released alongside propaganda footage documenting the cruel punishments.
Charlie Winter, a researcher for the counter-extremism think tank Quilliam, explained that the "hudud" punishments are derived from a literal interpretation of the Quran without taking into account the historical context. Some of these punishments are already incorporated into the penal code of some Arab states.