Miracle on Way to Bible Study: Woman Survives Horrific Crash That Saw Her Car Ripped Apart
Miracle on Way to Bible Study: Woman Survives Horrific Crash That Saw Her Car Ripped Apart
A 25-year-old Christian nurse was driving south on a California highway on Saturday morning on her way to a Bible studies class when the unthinkable happened.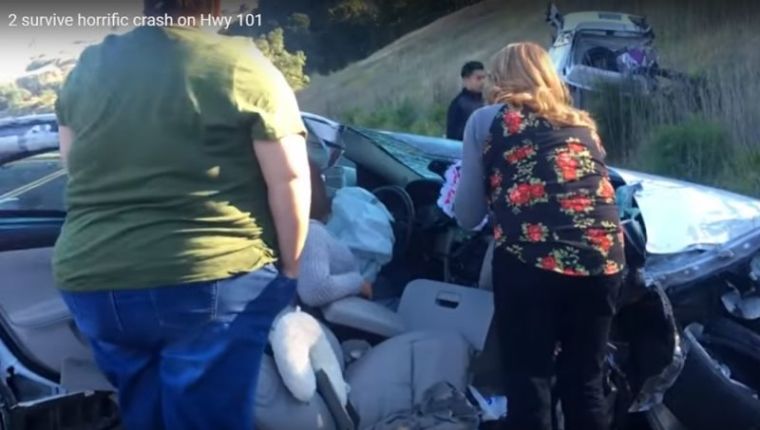 Apol Lansang said she was listening to music—Rachel Platten's "Stand by You"—as she drove down the curving, four-lane Highway 101 through the hills just north of Cloverdale, the Press Democrat reported.
Then she saw it coming—an SUV driving fast on the wrong lane and on a direct collision course with her car.
"All I did was think fast, think quick. I turned my wheel to the left to try and get out of the way, but he was coming too fast," she told KTVU.
All Lansang could do was brace for a head-on collision. She said she closed her eyes and said a silent prayer, "God, please save me. I don't know what's going to happen. I hope that when I wake up from this nightmare, I'm saved," according to the Press Democrat.
The collision was nightmarish indeed. It tore her white Chevrolet Impala down the middle. The Toyota Sequoia SUV that collided with Lansang's car was sent spinning, ejecting its driver who landed on the pavement.
Miraculously, both drivers just suffered some non-life threatening bruises. The California Highway Patrol (CHP) arrested the erring driver of the SUV on charges of driving under the influence of drugs and possession of marijuana.
"I should have died. I should have died. I can't believe I survived. And I asked the question: Why did I survive?" a crying Lansang later told KTVU from her friend's home in Santa Rosa.
She said she believes she survived to fulfill a higher purpose.
"There's a reason I'm still alive. I need to use my life wisely and for helping others," she said.
CHP Officer Kylar Adams expressed amazement that Lansang was able to survive the horrific crash. "The seat belt truly saved her life. ... Sometimes amazing things happen," he said.
Lansang said she has no ill feeling to the driver who caused the accident by driving in the wrong lane.
A video of the wreckage shared on Facebook and YouTube has gone viral, seen by more than 3.9 million people.