Strange Ray Of Light Reaching Up To Heaven Appears In Photo of Fatal Crash, Giving Peace and Hope to Victims' Families
Strange Ray Of Light Reaching Up To Heaven Appears In Photo of Fatal Crash, Giving Peace and Hope to Victims' Families
A photo of a strange beam of light ascending from the scene of a deadly accident to the sky, with two small orbs appearing to fly up out of the wreck, has been captivating viewers online.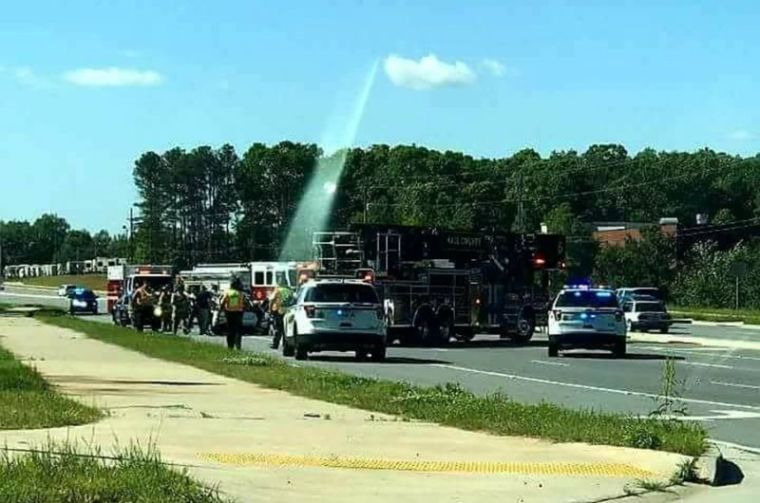 At the same time, the photo, which has been dubbed the "pathway to heaven," has provided peace and hope to the grieving families of the two young mothers and a 9-month-old baby who perished in the April 25 accident in Gainesville, Georgia, according to TODAY.
Hannah Simmons, 23, her baby daughter A'lannah, and friend Lauren Buteau, 28, all of Gainesville, Georgia, were killed in the road tragedy when the car Hannah was driving slammed into another vehicle, WSBTV reported.
The crash stalled vehicular traffic along Ga. Route 347, stranding Anisa Gannon, 19, who was on her way to work. Since she was going to be late, she took a photo that she intended to show to her boss at the office to prove that she'd been stuck in traffic.
Later, however, she saw something unexpected in the photo, and she showed it to her aunt, Tara Noble, who called it a "pathway to heaven."
Gannon believes the light in the photo was caused by windshield glare or lens flare. But her aunt said it was something else.
"I don't believe in coincidences, especially the two 'lights' inside that bigger light," Noble told TODAY. "It's indescribable, basically, and it does look like them leaving."
Noble then contacted Hannah's mother, Judy Simmons, and brought her a copy of the photo as a gift.
"I just needed something to show me that they were in Heaven and that they were OK," Judy told PEOPLE. "And that was my confirmation."
Judy has put a copy of the photo on top of her TV, to remind her of her loving daughter and grandchild.
"Nothing's ever going to be the same, my heart's broken and I miss them daily," she said. "If it wasn't for the picture, I don't know, it made it a whole lot better for me."
Hannah had just moved in with her fiancé Javont'e Hopkins, 25, and was a few months pregnant with their second child when tragedy struck.
Hopkins also saw the photo and told PEOPLE that it "is bringing me peace, I know they're watching down on me. It's helping a lot."
Dana Cantrell, the mother of Lauren Buteau, the other woman who died in the wreck, said the picture gave her "a peace that was indescribable."
"No doubt it's some kind of sign," Paige Wilson, Hannah's cousin, told TODAY. She posted Gannon's photo on her Facebook page.
Wilson said she hopes the photo has a higher purpose. "If it is able to change even one person's faith for the better, something's been done right," she said.
Friends of the families of the deceased have opened GoFundMe accounts for Hannah and A'lannah and Lauren to help with the funeral and burial expenses.