Ukraine: What should be the end game?
Last week I discussed the extremely dangerous issues unleashed by Russia's infamous invasion of Ukraine.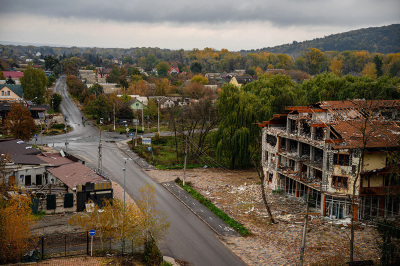 The United Nations Secretary-General and the U.N. General Assembly have both declared the Russian invasion to be a gross violation of basic international law. Furthermore, the International Community has identified the Russian invasion as a most heinous of international taboos—"ethnic cleansing" or genocide.
From Russia's widespread actions and behavior in Ukraine, it is now clear for all who have eyes to see that the Russians are determined to wipe Ukraine (a nation of 40 million people) and its civilization off the map. Their goal is to obliterate Ukrainian culture and extinguish their civilization. Everywhere the Russians have been successful enough to occupy Ukrainian towns and villages, they have murdered, raped, and pillaged like Cossacks and Barbarians, establishing torture chambers and brutish prison camps, leaving behind crippled lives, shattered communities, and mass graves.
This barbaric behavior by the Russians in Ukraine is nothing new. Russian imperialism in Eastern Europe, masquerading as Communism, had been going on for more than a century and a half. Russian imperialism flew under the red flag from 1917-1991, but as the Soviet Union imploded, the Russian bear was unmasked.
As Oksana Zabuzhko, a Ukrainian novelist and poet described his long-time experience of living under Russian exploitation and imperialism:
"I remember only too well how the specter of extinction was stalking Ukraine through the 1970s and the early 1980s, until the Chernobyl disaster finally broke our social paralysis and pushed Ukrainians to take our security into our own hands. In those years, those who dared to speak Ukrainian in public could be at any moment humiliated with the "Russian colonialist phrase 'Govorite po-chelovecheski!" ("Speak human!") — "The Problem with Russia is Russia," New York Times.
The Ukrainians' courageous defense of their freedom and their so-far successful combat with the Red Army has inspired freedom-loving people around the world. Zabuzhko explained it this way, "Ukrainians have all together, in a united effort of resistance, proved that non-Russian lives matter….It gives all those who speak human, with no quotation marks, hope for the future."
Unfortunately, Russia's invasion and its war-crimes-worthy behavior in Ukraine have been coupled with increasingly harsh repression of dissent in Russia itself.  
Almost all the strides made in the direction of greater freedom since Stalin have been, or are being, reversed. Much is at stake in Ukraine in addition to Ukrainian freedoms. The freedom of the Russian people and the peoples of the rest of Eastern Europe—the "near abroad" are in peril as well, writes Joshua Rubenstein in The Wall Street Journal's "Putin Re-Stalinizes Russia."
In addition, the Russian-Ukrainian conflict has destabilized the entire globe. Since Ukraine and Russia are both enormous exporters of wheat, the disruptions caused by the conflicts have produced major shortages in second and third-world countries and threats of famine are beginning to emerge.
The crisis in worldwide energy supplies has roiled international energy markets in dangerous and destabilizing ways. 
More than 8 million Ukrainians have fled their war-ravaged country and now reside in neighboring countries like Poland and the Baltic States. Five million more Ukrainian citizens are displaced refugees in their own country. That adds up to 13 million displaced persons in a country of 40 million people. Long term, this is not sustainable!
Currently, the war is roughly a thinly balanced stalemate. The status quo will not remain long-term. Even though the Ukrainians are electrifying the world with their courage, they are badly outnumbered (Russia has a population of 147 million people, compared with Ukraine's 40 million with 11 million being displaced persons). As Stalin once observed, "numbers have a logic all their own." Even with serious military aid from the U.S. and other NATO allies, Ukraine will have a difficult time expanding its position beyond the current status quo.
So how does the international community work to stabilize and alleviate a very dangerous situation? America and other interested parties in the international community should be working toward a plan that would include at a minimum the following elements. 
First, America and its allies should rally the international community to work for a cease-fire in place to stop the bloodshed.  This should be done with the understanding that the West will continue to arm Ukraine with sufficient weaponry to defend itself.
The U.N. Charter provides ample support for such cease-fire advocacy.  The classic "success" story of a cease-fire is the cease-fire that brought a halt to the combat of the Korean war (1950-1953).  No one expected the Korean cease-fire enacted in 1953 to have held for 70 years, and while it is far from perfect, it has saved hundreds of thousands from being sacrificed on the altar of war. 
And it must be remembered when a cease-fire is in place, things tend not to escalate as rapidly as when active combat is occurring.  And when one of the direct combatants possesses nuclear weapons (Russia), escalation dangers have the potential to "go nuclear" and no one knows how to get that genie back in the bottle successfully.
How would this work in Ukraine?  The West and the U.N. should work at all levels for a cease-fire in place followed by de-escalation with U.N. peacekeepers being interposed between the major combatants. The Russians should be assured by word and deed that America and the West will continue to supply the weaponry that will prevent the Russians from gaining a military advantage. 
Why would Ukraine agree to this option?  Those advocating a cease-fire and de-escalation should emphasize the ultimate value – self-determination.  No concept is more sacrosanct in the modern world than self-determination.  Any region has an absolute right to determine by whom they wish to be governed.  My guess is that while the Donbas and the eastern Ukrainian provinces as well as Crimea have significant Russian populations.  The vote for reunification with Russia would be probably a ringing endorsement against Russia and for staying as part of Ukraine.
Given the Russians' horrible behavior in these provinces, including kidnapping and sending back to Russia thousands of Ukrainian children to be adopted by Russian parents, my guess is that a critical mass of Russian-speaking Ukrainians will vote for being self-governed by Ukraine rather than Mother Russia.
Remember, the longer the conflict continues, the greater the chance a tragic miscalculation could occur that could lead to a major loss of human life and/or a nuclear event driven by Russia feeling backed into a corner.
The off-ramp Putin may be willing to swallow is if a fair Plebiscite on self-determination, monitored and certified by international parties, resulted in a 2 to 1 or 3 to 1 vote for Ukraine over Russia.
It is certainly a goal and a strategy worth pursuing.
Dr. Richard Land, BA (Princeton, magna cum laude); D.Phil. (Oxford); Th.M (New Orleans Seminary). Dr. Land served as President of Southern Evangelical Seminary from July 2013 until July 2021. Upon his retirement, he was honored as President Emeritus and he continues to serve as an Adjunct Professor of Theology & Ethics. Dr. Land previously served as President of the Southern Baptist Convention's Ethics & Religious Liberty Commission (1988-2013) where he was also honored as President Emeritus upon his retirement. Dr. Land has also served as an Executive Editor and columnist for The Christian Post since 2011.
Dr. Land explores many timely and critical topics in his daily radio feature, "Bringing Every Thought Captive," and in his weekly column for CP.