11 featured guests at President Trump's 2020 State of the Union address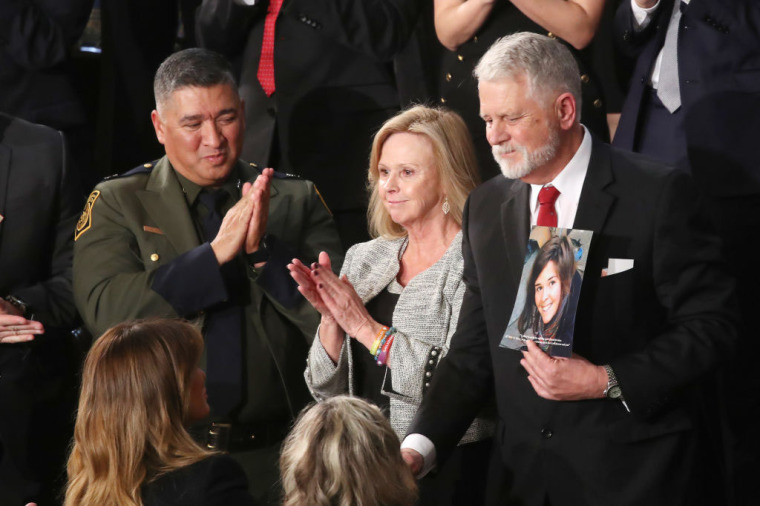 Parents of American Christian aid worker killed by Islamic State
One of Trump's 2016 campaign promises was to defeat the Islamic State in Iraq and Syria. 
Although IS once controlled over 20,000 square miles in Iraq and Syria three years ago, Trump said in his speech that the extremist group's "territorial caliphate" has been "100 percent destroyed." He also emphasized the fact that IS leader Abu Bakr Al-Baghdadi was killed last October.  
Trump recognized the parents of Kayla Mueller, a Christian aid worker who was raped and murdered by IS in Syria in 2015. It was reported that Mueller was the personal prisoner of Baghdadi before she was killed at the age of 26. 
"We are joined this evening by Carl and Marsha Mueller. After graduating from college, their beautiful daughter, Kayla, became a humanitarian aid worker," Trump explained. "She once wrote, 'Some people find God in church. Some people find God in nature. Some people find God in love. I find God in suffering. I've known for some time what my life's work is, using my hands as tools to relieve suffering.'"
Trump explained that the U.S. Special Forces operation that resulted in the death of Baghdadi was named "Task Force 8-14." The 8-14 is a reference to Mueller's Aug. 14 birthday. 
"Carl and Marsha, America's warriors never forgot Kayla, and neither will we," Trump said.