44 People Arrested in Connection With Grisly Murder of Christian Couple in Pakistan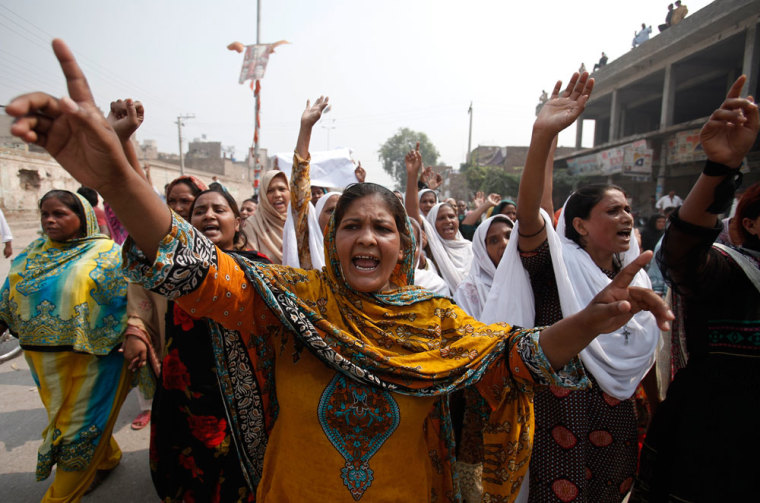 At least 44 people have been arrested in Pakistan in connection with the grisly murder of a Christian couple who were beaten to death and cremated for allegedly desecrating a Quran.
"We have arrested 44 people, it was a local issue incited by the mullah of a local mosque," said Jawad Qamar, a regional police chief from Kot Radha Kishan, Punjab province, according to The Guardian. "No particular sectarian group or religious outfit was behind the attack."
The victims were identified as 28-year-old Shahzad Masih and 25-year-old Shama Bibi, according to International Christian Concern. The married Christian couple was attacked by a mob of angry Muslims on Monday, allegedly for burning a copy of the Islamic holy book and throwing it away. The couple was murdered and their bodies were cremated.
"A mob attacked [Christians] after accusing them of desecration of the Quran and later burnt their bodies at a brick kiln where they worked," said a police official from Kot Radha Kishan, who wasn't identified. "Yesterday an incident of desecration of the Quran took place in the area and today the mob first beat the couple and later set their bodies on fire."
Union leader Farooq Tariq has said that the dispute that led to the couple's death was actually over money, BBC News reported.
"The owner of the brick kiln gave it a religious colour, and they locked up the Christian woman, Shama, for two days, then attacked her with shovels, then tortured her husband and threw them in the brick kiln," Tariq said. "It's the worst misuse of religion."
Persecution watchdog groups, including the ICC, have condemned the murders, and noted that the attack demonstrates how blasphemy laws are used to attack and sometimes kill people of minority religions, like Christians.
"The brutal killing of Shahzad and Shama once again highlights the extreme danger of religious fanaticism that Christians in Pakistan face on a regular basis. The accusation of blasphemy can be used for any dispute and can often prove deadly as it did today, inciting a mob to brutally murder this young couple," ICC Regional Manager Todd Daniels said in a statement.
"It remains urgent that the Pakistani government address the issue of false accusations of blasphemy. The actions taken by the federal courts in sentencing Christians like Asia Bibi to death provide motivation for mobs to carry out their own extrajudicial punishments."
Daniels referred to Christian mother of five Asia Bibi, whose death sentence for blasphemy was upheld by a senior Pakistani court in October. The ICC has called on international pressure to focus on those blasphemy laws, and suggested that the U.S. can stop sending funds to the South-Asian country until it addresses those problems.
Pakistan's Prime Minister Nawaz Sharif stressed that "a responsible state cannot tolerate mob rule and public lynching with impunity."
"The Pakistani state has to act proactively to protect its minorities from violence and injustice," he said.
Human rights group Amnesty International said that those responsible for the murders need to be brought to justice.
"This vicious mob killing is just the latest manifestation of the threat of vigilante violence which anyone can face in Pakistan after a blasphemy accusation — although religious minorities are disproportionately vulnerable," said David Griffiths, Amnesty International's deputy Asia Pacific director.
"Those responsible must be brought to justice and the Pakistani authorities have to ensure at-risk communities are proactively given the protection they need."