7 Unexpected Reactions to the Tragic Violence in Charlottesville
Vandalism of a Christopher Columbus Monument, Abraham Lincoln Bust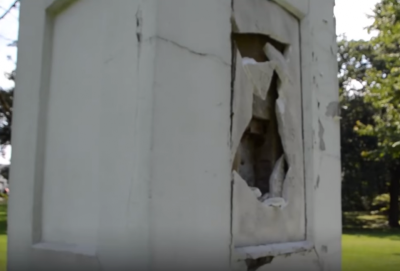 It's not just Confederate statues that are getting intense enmity following the Charlottesville protests, as famed explorer Christopher Columbus and President Abraham Lincoln have also become targets.
A two-story tall obelisk dedicated to Columbus in Baltimore, Maryland, was vandalized by an unidentified man who struck the monument several times with a sledgehammer.
"A video posted to YouTube on Monday by a user named 'Popular Resistance' shows a man striking the base of the monument near Herring Run Park repeatedly with a sledgehammer," reported The Baltimore Sun. "Another person holds a sign that reads: 'Racism, tear it down.' Another sign is taped to the monument reading: 'The future is racial and economic justice.'
"Police are searching for information about the men in the video, as well as whoever filmed it," the Sun added.
A bust of President Abraham Lincoln in Chicago, Illinois, was also vandalized and burned last week.
"The burning appears to lend credence to President Donald Trump's prediction that not only Confederate generals would come under attack, but also other famous American figures. Lincoln, however, did not own slaves and emancipated black people during the Civil War," The Daily Caller noted.