'Away in a Manger' remix focuses on Jesus' refugee experience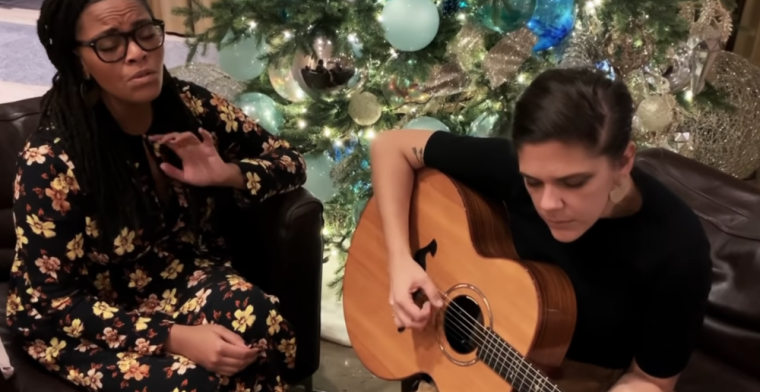 Christian singer Liz Vice has released a remix of the Christmas carol "Away in a Manger" that focuses on Jesus' childhood experience as a refugee fleeing King Herod.
Vice posted a video of the remixed song on her YouTube account last week, explaining that the video was recorded at a conference at Calvin College in Grand Rapids, Michigan.
"While waiting to hit the stage to open for the Blind Boys of Alabama, Hannah Glavor (her voice is that of angels) and I recorded a little video, shot by my keys player, Jamelle Houston," noted Vice in the video description.
The remix version changed many of the lyrics to the original carol. For example, the first verse of the remix version read: "Away from the manger they ran for their lives /  The crying boy Jesus, a son they must hide / A dream came to Joseph, they fled in the night / And they ran and they ran and they ran."
Verse three involves asking God to be near a person "when danger is nigh" and "keep us from herods and all of their lies," calling Jesus the "Refugee King."
Matthew Soerens, U.S. director of Church Mobilization at World Relief and national coordinator with the Evangelical Immigration Table, promoted the video on Twitter.
"A beautiful remix of Away in a Manger from @LizViceOFFICIAL focuses on Jesus' childhood experience as a refugee," tweeted Soerens on Monday. "If more of our Christmas traditions acknowledged this part of the nativity story, would it change how we respond to those seeking refuge today?"
In recent times, amid debates over immigration, refugee bans, border security, and the Central American migrant caravan, some have stressed the point that Jesus was a refugee.
For example, Evangelical Left activist Shane Claiborne took to Twitter last month to denounce border agents' treatment of the migrant caravan, calling it "the real war on Christmas" in a tweet.
"Don't forget the reason for the season. God left all the comfort of heaven to join the struggle here on earth. Jesus came to us as a brown-skinned Palestinian, Jewish refugee. There was no room in the inn. Let's make room for Jesus this year," tweeted Claiborne.    
However others, including Florida televangelist Paula White, who is President Donald Trump's spiritual adviser, have disagreed with the parallel, arguing that there is a difference between Jesus as a refugee and those who break immigration laws.
"I think so many people have taken biblical scriptures out of context on this, to say stuff like, 'Well, Jesus was a refugee,'" said White in an interview with CBN in July.
"Yes, He did live in Egypt for three-and-a-half years. But it was not illegal. If He had broken the law then He would have been sinful and He would not have been our Messiah."
Mark Tooley of the theologically conservative Institute on Religion & Democracy echoed White's contrast between Jesus and modern illegal immigration, but also added a warning that "the Bible almost never gives us such detailed counsel for contemporary statecraft."
"None of us can claim infallible authority in our political preferences. And we should be reluctant to deploy Bible verses as political debating points," wrote Tooley earlier this year.
"White's misuse of scripture to support current border policies instead of provoking ridicule should instead inspire reflection on why we Protestants, conservative and liberal, repeatedly make her mistake."