Boko Haram Leader Shekau Appears in Video, Dismisses Claims of His Death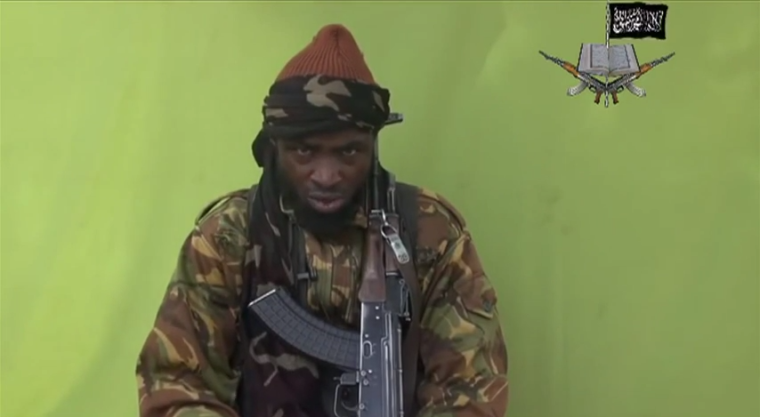 Boko Haram leader Abubakar Shekau appeared in a new video Thursday where he dismissed claims that he had been killed, and announced that he is implementing strict Sharia law on towns in Nigeria that have been captured by the terror group.
"Here I am, alive. I will only die the day Allah takes my breath," Shekau says in the video that was obtained by AFP. He adds that he is "running our ... Islamic caliphate" and administering strict Sharia punishments.
The video puts an end to hopes that Shekau might have been killed by anti-terror efforts, as the Nigerian army had earlier suggested.
Shekau is described as standing in combat clothes on the back of a pick-up truck and firing an anti-aircraft gun into the air in the 36-minute video. He speaks for nearly 16 minutes in the Arabic and Hausa languages spoken in northern Nigeria.
"Nothing will kill me until my days are over. ... I'm still alive. Some people asked you if Shekau has two souls. No, I have one soul, by Allah," he says, reading from a script.
Shekau also revealed that the terror group has established an Islamic caliphate in a number of the towns it has captured.
"We are running our caliphate, our Islamic caliphate. We follow the Quran. ... We now practise the injunctions of the Quran in the land of Allah," he said.
The video apparently shows violent scenes of a man being stoned to death for adultery, and a woman receiving 100 lashes for sex out of wedlock.
Boko Haram has also aligned itself with jihadist group ISIS, which is operating in Iraq and Syria.
Pastor Laolu Akande, the executive director of the Christian Association of Nigerian-Americans, told The Christian Post in September that that is a very worrying development, as it drives Boko Haram to increase the brutality of its actions.
"[Boko Haram] is very brutal already, but connecting and communicating with ISIS is going to give them more brutality. They might actually become stronger," Akande told CP. "This is what we don't want to happen."
He added that Islamic militants have made it clear that they will continue their war on the Nigerian government and on Christians in the country until they achieve total dominance.
"Boko Haram is determined to eliminate every sign of Christian presence and many churches have been destroyed or torched. Last week in a village in the area of Maiduguri, Boko Haram took over the parish for its local headquarters," Alumuku added.
CANAN has urged President Barack Obama and the world's leaders to add Boko Haram to the global anti-terror effort, insisting that the group is in no way less dangerous than ISIS.
"Obama will need to include other terrorist groups like Boko Haram, Hamas and Hezbollah" in the anti-terror strategy, Akande said.
"This group is targeting Americans, as they are targeting Nigerians, as they are targeting any westerner they can find. So it is important for us, as Americans, to insist that the U.S. president must include Boko Haram in his global strategy against ISIS."